'Diversification' : the key to the POP Industry
By Nabamita Chatterjee | January 18, 2018
Over the last couple of years this industry like many other sector have seen a lot of challenges, transformations, technological advancements and each player have grown in their own capacities.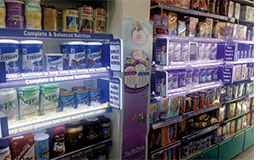 As change is the only constant, and evolution being key to success, this holds similar for point of purchase (POP) industry as well. The sector has experienced various alterations, challenges and hurdles with time and though being an unorganized sector it has been growing as a steady sector giving services to the top notch brands from every big vertical be it FMCG, Consumer Durables and IT, Apparel, Babycare, Lifestyle, Mobile and Telecommunication, Construction and Building Materials, Banking and Financial Institutions, Automobiles and many more. POP industry today is very much instrumental in playing a definitive role in customer engagement and immersion of a brandand thus has been a key service provider segment for them while reaching out to their target buyers and consumers.
Catering to the Demand and Supply
It is a very interesting thing to note that constant demand and supply of various services has shaped this industry and given it its own form and shape what we see today. The retail solution providers who all may have started work with the manufacturing of pop displays only, with time have gone into signage solutions, retail fixtures and vice versa.
For the Retail Solution Providers diversification is mostly taking place due to a combination of the growth in demand, and service providers aiming for a larger chunk of business and more market share and opportunity.
Thus they are diversifying into different segments of the larger business like retail fit- outs/POP/ various forms of Signage Supply/ Events & promotions, apart from the main in-store display work.
Diversifying with Materials and Services
POP industry which has various sub sections can be primarily divided into four main segments – Design, Temporary POP, Permanent POP, Dynamic Digital POP. In terms of type of production it could be Printed Signage, Die-Cut Units, Fabricated Units, Mass Produced Units, Screens etc..It has been observed over the years that the industry service providers has been giving an array of facilities or has gradually evolved as a turnkey solution provider, supplying all the above facilities to their clients.
As we spoke with them we understood that with the diversification there has been more business advantages in terms of commerce and newer market penetration with regards to reaching out to newer verticals and categories.
Vista Retail which has been so far primarily servicing the personal care and cosmetics brands have recently also forayed into signage division. On the diversification Hitesh Sharma, Managing Director of Vista Retail shares, "We have recently started Premium Signage/Corporate gifting/ Uniforms/Events & promotions/POP & POS designing and fabrication too. With this we are looking at more newer segments and markets and having separate team and department for each segment which we are increasing as well servicing."
Shreesh Sharma, Director of GV Display opines, "Our journey started with wire mesh and metal based pop solutions but after 2008 we started making various other types of pop display units using different materials like sunboard, mdf, acrylic, wood and we equipped our in-house facility accordingly for our better client servicing and thus this demand and supply chain have helped us diversify in every aspect of this industry. From this year we are foraying into signage services as well and are adding on to our machineries. This entire process has helped us gain more confidence of our clients and our customers show their trust on us when they see we have a gamut of services on board.
Changing needs of clients
With the stores becoming more efficient in terms of using their real estate the fight for shelf space has become higher for the brands. Thus the brands are becoming more stricter with the budgets for in-store campaign as well along with other domineering factors effecting the ROI. The brands thus these days are looking at pop units which are more cost effective as well as look for innovative solutions and as an engaging platforms and each time with any in-store activations.
Kaushik Bhattacharjee, Founder & Managing Director, Brand Evoke Systems & Creative Solutions Pvt. Ltd., shares with P-O-P, "We are now suggesting lot of reusable pop formats with extended lifecycle and which can be used for different communication at least for 3-4 times, and clients are going with such cost effective materials. We are strong in our merchandising solutions but with time we have evolved and try to do some value additions each time to the assets we create for our brand partners and retailers."
Thus, be it the use of technology, or innovative designs, gaining expertise on the infrastructure and materials, the players seems to have grown with each of these demands from their clients.
Amit Shah, Managing Director, Spectrum Scan mentions, "Giving innovative solutions with thermoforming was a defining moment for us way back and we also started giving designing solutions free to the brand and our clients. However, we moved forward from thermoforming days and understood very quickly that there has to be an integration of technology with different forms of pop items."
Challenges of the POP Industry
Though according to the industry veterans the Indian POP industry still struggle with timelines and lack of appropriate technical expertise and quality driven jobs, which is probably also diluting the image of this industry. Timeline is a great challenge because the industry still suffers with basic problems as till date it has remained a very fragmented and unorganised sector in nature. Renesh Raghwan, Director of Niche Business Promotions shares, "Maintaining the timeline is still the biggest challenge for the industry, also the technical expertise on various substrates is the key to success. Thus, we need to be more creative yet look at the functionality of each solution given. We should be honest while servicing any sector and that will in a way benefit us to grow."
Also factors like low investment in quality materials or recruiting more educated and creative people in the industry is posing great deal of concern. The agencies also face lot of issues due to poor logistical and transportation I different parts of the country while covering a huge geographical expanse.
Conclusion
However, we may say that value proposition, need of variety in pop items, integration of different materials are key factors to achieve the best results, and all these have contributed to the diversification in business for the pop industry players. The industry solution providers feel there lies a huge untapped market for pop industry in India and with time all these factors will help become the segment more organised.