'E-commerce dream run far from over'
By Jim Hollen | June 03, 2016
That\'s what both online and offline entities are saying; alarm signs more for firms in the middle league, feel observers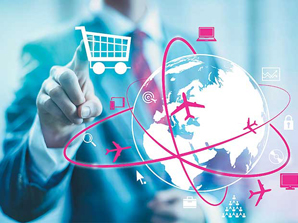 The recent valuation markdowns of e-commerce poster boy Flipkart, prominent internet companies deferring joining dates for IIT/IIM graduates, hardly any eye-popping fund-raising, dismissals and office closures all seem to be signs that add to tell a story gone quite wrong.
Not so, argue not only stakeholders of the e-commerce universe but also those safeguarding the interests of traditional retailing.
Retailers' Association of India (RAI), which recently demanded government action against online entities flouting rules, believes the dream run in e-commerce continues. Says RAI chief executive Kumar Rajagopalan: "Now, the e-commerce dream run will become more relevant without the mayhem of deep discounting."
WHY THE ALARM BELLS RANG
Many marquee investors marked down valuations
IIT, IIM grads benched by top online firms after offer letters
No big funding by e-comm firms in 2016
Reduction of staff in many firms, and closures
As easy funding is a thing of the past, e-commerce companies will have to provide real value to customers, making the sector stronger, he said.
The Association, claiming to speak for the $650-billion retailing sector, cannot overlook the big businesses which have started to seriously experiment with online play. Tata Group's CLiQ is the latest to join the e-commerce club, to compete with the likes of Amazon, Flipkart and Snapdeal. Reliance Industries and Aditya Birla Group are among the other big businesses with online ambition.
Sreedhar Prasad, e-commerce partner at consultancy KPMG, said: \"Whether it's a dream run or not needs to be evaluated from the perspective of companies, investors, customers, employment market and government/regulators separately.\" It would, he felt, get increasingly difficult for 'me, too' companies to raise funds and sustain the discounting bleed.
"The larger players would continue to grow, considering the consumer adoption of e-commerce in India, as well as the increasing smartphone penetration,'' he added.
In India, e-commerce is only 1.6 per cent of the total retail pie. Organised brick and mortar takes up about eight per cent of the $650 bn, estimates show. In comparison, eight per cent is online of a total $3.5 trillion retailing sector in the US. In China, e-commerce is 25 per cent of a $1.5-trillion retail market.
In that backdrop, Sandeep Aggarwal, co-founder of Shopclues and Droom, believes, "E-commerce in India has the potential to touch 20 per cent of the total retail pie.''
Also, according to a latest study by international real estate consultant CBRE, e-commerce has emerged as one of the main drivers for warehouse realty demand. At two million sq ft of warehousing space taken up by e-commerce entities in 2015, the sector's share rose from two per cent of the total warehousing demand in 2012 to around 22 per cent. Even office space demand from e-commerce companies saw 170 per cent annual growth, from 0.7 mn sq ft in 2014 to two mn sq ft in 2015.
However, an India Ratings and Research analysis says online retailers are exposed to funding risks as their access to easily available private equity (PE) funds gets tighter. "E-tailers which were flush with PE funds up till 2015 have had lesser fortune this year, with muted deals during January-April 2016.''
However, another analyst tracking the sector said the funds hadn't dried. Rather, investors had become selective while giving money -- they look for uniqueness of ideas and strong business models.
On companies benching campus recruits, another observer says it is not necessarily a sign of bleaker times. The same thing happened in information technology in 2002-2003, he said, with big companies deferring the joining dates due to rupee-dollar benchmarking. The campus issue should not be seen as a big concern. However, compensation in e-commerce, which has been 20-25 per cent higher than at consulting companies, might get more realistic.
Vijay Shekhar Sharma, founder and head of One97 Communications that runs Paytm, is upbeat as his e-commerce platform has already seen the first profit. "This is the time for the e-commerce dream run to start.''
True, alarm signs are there but for companies in the middle layer, rather than in the top league. According to Prasad of KPMG, "We would see consolidation in the industry, with those mid-tier players who are unable to raise funds or manage bleed getting acquired by larger companies.'' The latter could be existing e-commerce entities or large business houses venturing into this space, wanting to tap on the technology and experience of the team, he added.
So, who would emerge winner of the three sets -- international players like Amazon and Alibaba; pure-play Indian start-ups such as Flipkart, Snapdeal or Paytm; or big businesses, including Tatas and Reliance? Rajagopalan laughs and says, "It's never a winner-takes-all game in retail. " His his bet is on omni channel players, which have both brick & mortar stores, as well as e-commerce.