Ecommerce: Spreading Far & Wide
By Subhro Prakash Ghosh | Vjmedia Works | August 14, 2014
Ecommerce is exploding in India. As a response, several bricks and mortar retailers are beginning to migrate toward a"œbricks and clicks"model. A panel of speakers at Massmerize 2014 discussed how retailers can create an effective cross-channel strategy (online, mobile, physical) to capture a seamless experience to the consumer.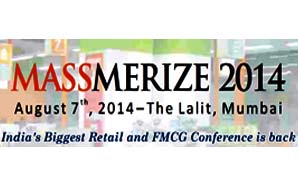 Ecommerce has changed the dynamics of conducting business. It has transformed the traditional business channels for many industries and consumer shopping behaviour is changing at a fast pace. Currently there are around 198 million internet subscriptions in India of which 176 million accesses internet through mobile phones. Since 50 percent of the internet users in India are'mobile' only, offline retailers are going online. In India, online shoppers will increase by more than three times by 2015, jumping to 41.8 million.
According to Samir Kumar, Director - Category Management, Amazon India, "Consumer is all powerful now. This means we are catering to an audience which is much more aware of new opportunities in retail. The consumer behaviour is changing and so is the equation. Before we had to spend a lot more time on informing about the product, selling the product but now we have to spend a lot of time building the same products. We have great products that the consumer is discovering and no one can fool the consumers".
Interestingly, an online business can be set up for less than a traditional retail store as it's a low cost start up business compared to the start up cost of brick and mortar stores. Assocham, the industry association, in its survey of around 3,500 traders and organised retailers in the cities of Delhi, Mumbai, Chennai, Bangalore, Ahmadabad and Kolkata has found out that online medium plays a strong role in purchase, both online and offline. According to this report, Mumbai is the top city when it comes to the number of online shoppers in the country. Delhi and Kolkata follows suit.
It was discussed that by 2016 India is going to be the third biggest ecommerce market by value in the world after the US and China. Online retail is worth $3.1 billion, or 10 percent of the organised retail market and is estimated to grow to $22 billion, or over 15 percent of the organised retail market, in next five years.
According to industry estimations, online shopping of physical goods in India will grow to $8.5 billion by 2016 and the number of online shoppers in India will be more than double to 40 million. According to Kumar, "Mobile shopping infrastructure is improving because of smart phones, connectivity, mobile websites and apps. People are becoming more comfortable in ordering higher priced items online". The speakers revealed that 35 per cent of Gross Merchandise Volume (GMV) in 2016 will be influenced by women as working women segment grew 43 percent in 2013. It has been noticed that tier II cities are growing much faster in ecommerce than tier I cities and central and north eastern India appears to have low adoption of ecommerce.
\
Indian ecommerce needs better infrastructure to grow. According to Utsav Seth, MD & CEO, Pavers England, "Though there is a major shift toward online and it is the way forward, there are a lot challenges like infrastructure, logistics and shopping malls that needs to be addressed. Once we are able to tackle these issues, ecommerce should be the current buzzword".
Most of the speakers were of the view that since ecommerce is a new technology and with most of the mobile penetration covering almost 85 percent of the population, ecommerce makes shopping convenient. Customers can order from their phone or computer or tablet and even sellers or merchants don't have to face the complexity of traditional retail.
"Ecommerce doesn't involve opening a store. You can develop depending on customer response. Ecommerce uses a new technology. We get 40 percent of our orders from mobiles. As internet penetration grows the share of ecommerce in retail will grow" shared Kumar.
Expressing his views about cash on delivery, Arjun Basu, Co-Founder & Director, Mydala.com, said: "Though it is going out of India, it is actually one of the biggest reasons for the success of ecommerce in India. I think it's a process which will take some more time as it bridges the gap between online and brick-and-mortar retail".
According to a report by Ernst & Young, the return rates in online shopping in COD transactions averages around 40 per cent and for larger e-retailers, this payment mechanism is available in 600 cities and towns.
With payment and security not a threat anymore, more and more shoppers are going the ecommerce way. It has been observed that parents request their kids to do the online research facilitating the discovery process. When it comes to age groups, 35 percent of the online shoppers belong to the 18-25 year old segment, 55 percent from 26-35 segment, 8 percent from 36-45 and 2 percent from 46-60.
Today Indian ecommerce market is valued at $16 billion; all the way up from the $2.5 billion valuation in 2012. This valuation is expected to reach $56 billion by 2023. So indeed, ecommerce is definitely the current buzzword of the retail industry and whether you love it or hate it, you certainly can't ignore it (any more).