Essel Propack adopts Esko CDI in 6 locations
By Dipanjan Mukherjee | Vjmedia Works | September 12, 2014
Pragati too adopts Esko's award winning Equinox solution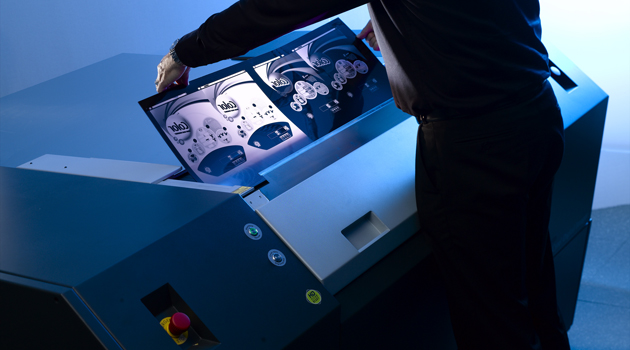 Esko has announced that Essel Propack, the largest global manufacturer of laminated tubes, has adopted Esko's prepress and workflow software as well as Esko CDI digital flexo plate imaging for producing flexo and letterpress plates in-house.
Essel Propack is part of the $2.4 billion Essel Group, and has a 33% market share in its specialised domain. Essel Propack produces high quality printing on lamitubes using flexography, letterpress and digital printing. Headquartered in Mumbai, the company employs 2,200 people across its manufacturing units in 12 countries including the US, Mexico, Colombia, the UK, Poland, Germany, Egypt, Russia, China, Philippines, Indonesia and India.
About the choice for Esko's solutions, M Ram Ramasamy, Vice President, Essel Propack, said: "Packaging print is all about consistency and predictable results. We at Essel Propack have adopted flexo, letter-press and digital print processes and Esko's solution delivers the consistent high quality results very well across all our printing processes."
Constantly raising the bar to extend its leadership in the laminated tube domain with improvements in quality and consistency, Essel Propack has now implemented quality innovations in six locations across its plants in India, Poland and China. The company is using Esko's prepress software including Color Engine and adopted Esko's Full HD Flexo Solution for its CDI Spark imagers with inline UV2.
Ramasamy said: "Esko's CDI is the most versatile Flexo/Letterpress CTP where you can use any brand or type of plate and still be assured of the output quality. With innovations like Esko's Full HD Flexo using Esko's in-line UV2 on the CDI imagers, the quality has moved to the next level. We now have standardised the Esko workflow across all our units in India (Vashind, Wada, Nalagarh, Goa) and across the globe in Poland and China - totally 6 units thus far.
Essel Propack continues to expand capacities in India and internationally anticipating increased demand from its old and new customers. The company sees tremendous growth potential in all the three sectors in which it is present: -- beauty & cosmetics; pharmaceuticals & cosmetics; and, health & food. Ramasamy added that the company's global operations require alignment with an integrated supplier across technologies and across locations, "The support structure, flexo expertise at Esko and its global presence is in line with Essel's requirement."
Esko has also announced the successful implementation of the Esko Equinox extended gamut solution by Pragati Offset in Hyderabad. Equinox is Esko's solution for the implementation of extended gamut - or fixed inkset - printing.
Equinox Expanded Color Gamut (ECG) technology is Esko's patented technology for converting packaging graphics from CMYK and spot color to a seven-color process. It is applied in the prepress department when preparing jobs for press. Converting entire files results in extremely close matches to spot colours, improved pictorial images, and the ability to print more colours than available ink stations on the press, resulting in improved image quality and brand impact. The major benefit, however, is realised in the pressroom as jobs print more economically and more consistently.
Pragati Director, Harsha Paruchuri, said: "I saw this solution in an early beta stage at the EskoWorld Conference in Tampa, Florida about 4 years ago. It struck me as very interesting even at that stage. Taking a large 7 color gamut and having the software convert an artwork with any number of Pantones or RGB images to those 7 colours (or 6 or 5, depending on what you want) sounded interesting."
Since the CMYK colour space lacks in the green, orange and blue-violet areas, adding these three inks to expand the colour space makes sense. A 7 color strategy is made after measurement of the test forms. The set up and maintenance of the profiles and strategies are the main work. Equinox conversion can be done in Esko's prepress editors with the ability to manually interact and change some of the conversions - or it can be set up in the ticket and done automatically by the RIP during the normalization. There is also an Adobe®Photoshop® plug-in for interactively converting images to 7 colours.
Paruchuri added: "Once the profiles are made, it is almost a push button solution as far as spot colours are concerned with the images processed automatically to create a 7 colour separation set. And since we have a complete Esko workflow, Equinox fits seamlessly into the workflow."
Paruchuri shared the thought process that went into installing two new 7 colour plus coater offset presses at the end of 2013, "We thought an additional unit would give us more flexibility as we already print a lot of 6 colour jobs and there were times when we felt an additional colour would improve the quality and consistency. Equinox also played a part in our thinking when we ordered these new 7 colour presses."
Shrihari Rao, Esko's Sales Director for India, said that Equinox has found resonance with one of the world's most innovative printers. "It is only fitting that Esko Equinox - which received a prestigious Intertech Technology Award -- this year, is in the capable hands of a printer who continues to win awards and enormous global recognition for its quality and innovation," he said.
In the past 17 years, Pragati Offset has become one of the leading packaging and label printers in the country, winning many national and international awards. While the company sees the use of Equinox as hugely advantageous for offset printed cartons and label printing on its 8 color flexographic presses, it feels that Equinox is the right solution for any project with high gamut requirements from garment catalogues, coffee table and paint swatch books, and even calendars and diaries.