Extended festive season spurs consumer durables, electronics sales
By Dinesh Jain | November 17, 2015
Companies say much of the sales happened in big cities; momentum expected to continue with the marriage season about to begin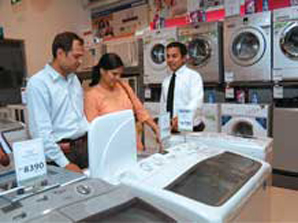 C M Singh, chief operating officer (COO), Videocon Industries, is a happy man. The month-long festive period of Dussehra and Diwali was good, he claims, with his company's flat-panel television sets and home appliances seeing brisk business.
There's a caveat, however. "Big cities and counters was where much of the sales happened in the past three to four weeks. The smaller towns were muted. Sales, if any, in the tier II and tier III markets happened only in the last two to three days, that is, during Diwali, not before that," he says.
Singh is not the only one echoing these views. The consensus among consumer durables and electronics companies is that sales in the period were not uniform. As Kamal Nandi, business head and executive vice-president, Godrej Appliances, says, "Some states have done well, some haven't. The west and the north were not as encouraging as we anticipated, though some parts of the east and south were good in terms of sales," he says.
The expected rush of customers has happened in a few quarters, mostly where finance schemes were aggressive, pricing competitive and product features interesting. This was mainly in the cities. As Nilesh Gupta, managing director, Vijay Sales, the chain of electronic stores located in the west and north, says, "Over half our business came because of aggressive finance schemes, which we bundled neatly with a range of products. Some brands were also aggressive during Diwali such as Sony, Samsung, LG and Videocon with their pricing, marketing and advertising. Some categories such as single-door refrigerators were completely sold out. There was nothing left in terms of inventory in our stores."
Trade sources say brands such as Sony, Samsung, LG, and Videocon have seen a 20 to 25 per cent growth in sales of flat-panel TVs this Diwali, while LG has seen around 15 to 20 per cent growth in home appliances in the same period. Sales growth of brands such as Whirlpool and Haier could not be ascertained immediately.
However, unlike last year, the Diwali momentum is expected to last longer this year because of the marriage season that will begin this month. "For appliances, the marriage season is of significance as people tend to gift these products. We are counting on getting business during this period," Nandi says.
Y V Verma, a consumer durables and electronics expert, who was earlier with LG and Onida, says the momentum this year is because of the timing of Diwali. "Last year, Dussehra and Diwali were in the same month. This year, they were spread out over October and November. And then you have the marriage season that kicks off after the festival. This explains the enthusiasm seen in appliance makers," he says.
TV makers too are enthusiastic about the extended sale period. Videocon's Singh says, "Last year, there was a slump right after Diwali. This year, I think, things should be better."