F in FMCG is future for Amazon
March 01, 2017
Amazon's pantry division across 29 cities in India helps sellers sell FMCG products on its platform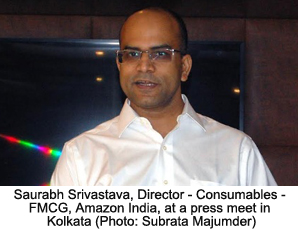 Online retail giant Amazon hopes that apart from end-user consumers, the Indian fast moving consumer goods (FMCG) companies will drive its growth this year by offering exclusive products on its marketplace — a trend the company says will grow over time.

The consumables division of Amazon India has so far done exclusive product launches for an array of products, including soft drinks, cookies, chocolates and potato chips, and expects that FMCG companies will rely more on piloting their products online in the near future.

The company's director of consumables and FMCG, Saurabh Srivastava, said the key factor that will make this trend popular is the limitation on the distribution structure and marketing communication faced by FMCG firms in the country.

In case, an FMCG company exclusively launches its product online, not only will it get greater online visibility but it can also leverage on the data mining and machine-learning abilities, which e-commerce companies have mastered, to reach out to the targeted consumers, he said.

While Amazon doesn't share its consumer data with FMCG companies, the US based e-commerce firm provides market trends and insights to its vendor consumers, who can formulate their marketing campaign based on the findings.

The firm earns revenue from the buyers, sellers as well as the firms using Amazon's service. Exclusive online launches gained traction with smartphone and IT hardware companies first coming up with the concept, offering products at very competitive prices. Pre-booking of electronic devices before its official launch also helped draw interest in this trend. The same logic and marketing rationale has now drilled down to FMCG products as well.

"Besides, on the online platform, international as well as local brands have an equal opportunity to reach out to a wide audience," Srivastava said, responding to a question from Business Standard.

Amazon, which has registered 165% growth in its FMCG and consumables business last year, hopes to maintain a similar growth momentum this year. Apart from increasing brand count on its portal and exclusive launches, it is also banking on the household and beauty product categories to drive sales.

"The beauty category is helping us recruit new customers," Srivastava said.

Amazon has come up with a pantry division across 29 cities in India, which helps sellers sell grocery, household and FMCG products online on its platform. While the concept, which directly competes with Big Basket, Grofers and others, is registering a good consumer pull, the beauty products portfolio is helping the company pull in new customers.

Currently, it has 250 brands and over 3,500 everyday essentials on the Amazon Pantry platform, which will be expanded shortly. Based on geographies and localities, Amazon Pantry will also introduce popular local brands in the online portfolio, he said.

However, in the consumables and FMCG category, Amazon will not eye for an aggressive expansion in the immediate future. For Srivastava, the priority is to first create enough capacity and logistical support to cater to the cities it is currently catering to, and then consider expansion to other cities with the Pantry service. It has 27 warehouses across 10 states in the country.