Fanzart opens its 104th showroom in Bengaluru
By Retail4Growth Bureau | August 01, 2022
Fanzart is launching 6 new models with its flagship store launch in Bengaluru. The store will be displaying more than 100 luxury designer fans.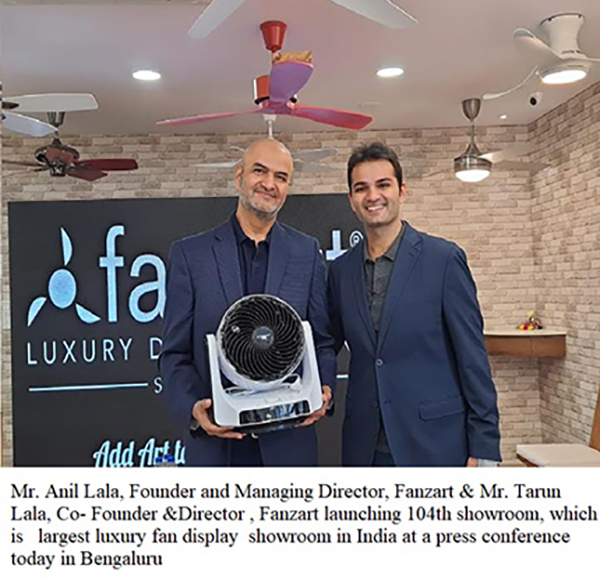 Fanzart a luxury designer fans brand has opened its 104th showroom in the country. The showroom is located on Bellary Road in the posh Sadashivnagar locality of Bengaluru. This year the company is going to complete its 10-year anniversary. The brand has one company-owned showroom and two franchised outlets in Bengaluru. This new showroom will be the flagship showroom of the company with the largest display of luxury designer fans in the country. The showroom will display more than 100 luxury designer fans with perfect detailing and the right amount of spacing with interiors will help the showroom stand out and promises to be a fan connoisseur's delight.
Speaking on the launch of the flagship showroom, Mr. Anil Lala, Founder and Managing Director, Fanzart said "It brings me immense pleasure to be able to scale to such heights and have a widespread display of the most outstanding quality of luxury fans under one roof. We have a great team who work hard towards bringing innovation and defining state-of-the-art technology in designer fans."
Talking about the new collection Mr. Tarun Lala, Co-Founder & Director said, "We are very excited about our new flagship as well as the 6 new models we are launching. The first 3 are brand new designs - the HALO, the ORBIT and the JAZZ, based on design trends and modern minimalism. They are powered by power-saving BLDC motors, and offer Fanzart's Summer-Winter feature. The other 3 are variants of our existing designs which introduce a new dimension, they tell a story between the sequences of colors and because they are conceptualized and customized, this particular collection is only limited by your imagination. There could be infinite models, and a customer can customize it themselves."