FDI rules may stump even Indian chains
By Disha Baruah | Vjmedia Works | January 24, 2014
Since allowing FDI in multi-brand retail has been left to the states, Indian companies may not benefit as foreign investors are wary of the politics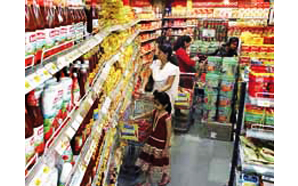 When the Arvind Kejriwal-led Aam Aadmi Party (
AAP
) government in Delhi last week overturned the earlier Congress administration's decision to allow foreign-owned multi-brand retailers in the state, it dealt a severe blow to the United Progressive Alliance government's grand plans to get
foreign investment
in the sector. The AAP argument was that it would impact the small retailer and the corner grocer - the aam aadmi shopkeeper. But the move will not only affect foreign investment, it is also a setback to the hope that the country's supply chains would become more efficient with global know-how. The decision will also affect the plans of Indian retail chains to get foreign direct investment, or
FDI
, and scale up their business.

Take the example of Bharti's EasyDay. It's pan-India spread of 212 stores makes it a promising investment for any international chain. Organised retail is a small part - less than 10 per cent - of overall retail, which leaves a huge potential for growth. Walmart, the world's largest retailer which was supposed to buy into EasyDay, has broken off with Bharti. Foreign retailers should have been falling over each other to acquire a stake (they are allowed up to 51 per cent) in the Indian retailer. But careful scrutity shows why it would be prudent to wait. Take EasyDay, for instance. Of its 212 stores, only 78 are in Congress-ruled or FDI-friendly states, making it about 36 per cent of the total. Of these, 45 are in Haryana and six in Maharashtra - states that will go to the polls later this year. Given the wave of populism sweeping the country, it is possible that the two states may alter their stands on FDI in multi-brand retail. Thus, EasyDay would be left with just 27 stores, or 12 per cent of the total, in states which are pro-FDI (at least for the next few years). This should make any investor think twice before pumping funds in EasyDay. (STATE-WISE LOCATION OF RETAIL STORES)

When the United Progressive Alliance opened up multi-brand retail for FDI in September 2012, it said that every state would be free to decide whether or not to allow foreign-owned retailers there. This was done to build political consensus for the move. But the government failed to anticipate how this would backfire. State after state ruled by the Bharatiya Janata Party, which counts shopkeepers among its traditional voters, began to exercise the veto. Punjab, ruled by BJP ally Shiromani Akali Dal, had encouraged foreign-owned wholesalers but said no to foreign-owned retailers. "They (the wholesalers) are procuring everything locally. And the local retailers are benefiting from them. So, rather than competing with the local traders, it is complementing them," Punjab Deputy Chief Minister Sukhbir Badal had told Business Standard some time back.

More reversals may follow
What really seems to have unnerved foreigners is the Delhi government's about turn. Rajasthan, where the Congress lost in the recent Assembly elections to BJP, too is likely to oppose the multi-brand FDI policy. Union Commerce & Industry Minister Anand Sharma, on his part, has attempted to assure investors by stating that no state has the right to reverse its decision on the FDI policy. But as a consultant who tracks retail argues, current political uncertainties are too much of a hurdle for investors, irrespective of what the minister says. "There will be a new government at the Centre in just a few months. So, who will risk an investment at this juncture?" This goes both ways as seen in the decision taken by the Karnataka government to change its "no" to "yes" last year after power transferred to the Congress from BJP.

A common problem
EasyDay is not the only example of a domestic chain which may face hurdles if it were to look for an overseas partner. The Mukesh Ambani-led Reliance Retail's food and groceries business, Kishore Biyani's Big Bazaar and Aditya Birla group's MORE too have a small fraction of their total stores in states that support foreign investment in retail. In the case of Big Bazaar, around 70 out of its 165 stores, or 42 per cent, are in FDI-friendly states. But, if the poll-bound states of Congress-ruled Andhra Pradesh, Maharashtra and Haryana are kept out, the number falls to just 25, or 15 per cent of the total. Reliance Retail has 74 of its 302 stores, or 24 per cent, in FDI-friendly states. Leaving out the states which will have elections this year, the number drops drastically to just 16, which is only 5 per cent of the total. The Aditya Birla chain presents a unique scenario: all the FDI-friendly states where its stores are located (Andhra Pradesh, Maharashtra and Haryana) are slated to have elections. The three states account for 148 of its 394 stores, or 37 per cent. If these states were to reverse their earlier decisions, the group would be left with no store in a FDI-friendly state.

Location matters
So, while these domestic retail chains are potential Indian partners for foreign players, their attractiveness fades away when seen in the context of the location of the stores. It's a different matter that both Future group and Reliance Retail have maintained they are not looking for foreign investment.

Still, Tesco will invest $110 million, or close to Rs 700 crore, for a 50 per cent stake in Tata group's Trent Hypermarket. But there's a catch: the UK-based retailer has said in its application that it will invest in only Maharashtra and Karnataka, both Congress-ruled and FDI-friendly states. The two-state strategy works for Tesco as Trent's Star India Bazaar has the majority of its stores in Maharashtra and Karnataka. The first foreign entrant in multi-brand retail still runs a risk in Maharashtra, which is scheduled for Assembly elections at the end of this year and may just see a change in government and reversal in retail FDI policy. However, what will work for Tesco may not work for others, points out Arvind Singhal, chairman of Technopak Advisors, as new investors will be more wary of investing in the light of policy reversals by the states.

That said, the buzz is getting stronger that French retail chain Carrefour is preparing to file an application for entry in multi-brand retail. It is also said to be in talks with potential Indian partners. Carrefour entered the cash & carry (wholesale) segment in December 2010 and runs five stores in the country. Walmart, which was expected to be the first to apply for multi-brand but has now been left behind, is busy organizing its cash & carry business after splitting with Bharti and putting in place a new India entity.

Experts point out that at a time when the two largest international chains - Walmart and Carrefour - are without Indian partners and many domestic retailers are looking for foreign investment, the state-by-state rule has emerged as the biggest hurdle. The uncertainty around a particular state's decision and reversal of policy after each assembly election will stand in the way of any serious foreign investment. This, according to them, could be a bigger hindrance than even the rule for mandatory local sourcing. Under it, retailers are required to source 30 per cent of their merchandise from small local suppliers. Walmart has asked the government to reduce the quantum from 30 per cent. The group's Asia chief, Scott Price, had last year said that the policy was not feasible.

Where the unpredictability of rules and regulations in India's very political economy are concerned, the more things change, the more they remain the same.