FMCG corner in Park Avenue expands
By Dinesh Jain | Vjmedia Works | May 08, 2014
Raymond adds a new product to the personal care universe of its largest apparel brand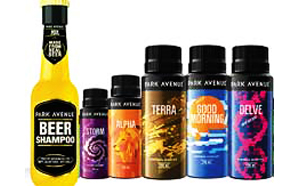 The recent talks of a stake-sale of the Raymond Group company JK Helene Curtis (JK) has put the spotlight on its key brand, Park Avenue. The brand is in men's deodorants, toiletries and hair care and estimated to contribute nearly half of JK's Rs 300-crore revenues. On Wednesday, it launched yet another men's hair product that combines a shampoo and shower gel called Speed Shower. Yet, how relevant is an FMCG product to a textile-focused group?
Experts say they share common ground. Park Avenue is a popular shirt brand in Raymond's Rs 864.12-crore branded apparel business that contributed 39 per cent (Rs 334 crore) to its revenues in 2013-14. The four apparel brands including ColorPlus, Parx, Raymond Premium, Park Avenue were the biggest contributor to the company's branded apparel business last year. It has also grown consistently in the last few years, despite a slowdown in textiles.
Seeing the potential of Park Avenue, Raymond has extended it into men's personal care. Speaking about the latest product launch, Anil Kulkarni, business director, J K Helene Curtis, says, "We have always offered the most innovative products in the personal grooming categories for the Indian male and the launch of the Park Avenue Speed Shower is yet another step in that direction. Park Avenue Speed Shower comes with a 2 in 1 benefit of a shampoo and shower gel thus, offering a complete package in haircare and skincare."
Alok Nanda, MD, Alok Nanda & Company, says, "Fashion brands operate differently from core FMCG brands. The extensions of a fashion brand serve to improve depth of consumption. When you walk into a store and have a Park Avenue deo available along with shirts, it is convenient for the shopper, not to mention that the bond with the customer is strengthened. Consumers may also find the extensions thoughtful."
Globally, most apparel brands, such as Diesel, Dolce & Gabanna, Calvin Klein and Hugo Boss, have found their way into segments around the core offering. Diesel, for instance, has been extended into belts, bags, shoes, watches, underwear, beachwear, eye-wear, helmets and jackets. The same goes for sportswear brands such as Adidas, Reebok, Puma or Nike, which have been extended from shoes into clothing and allied accessories.
Serious FMCG plans
While experts are unanimous of the sum-of-parts approach that apparel brands take when launching extensions, Park Avenue has been pushing hard into newer segments to exist independently. Park Avenue deos, according to industry sources, rank among the top five men's deodorants in the country, along with Axe from Hindustan Unilever, Wildstone, Fogg and Playboy. Experts say the brand's rank has been achieved by pushing it aggressively into stores, creating a distribution network independent of the parent brand.
As Pragya Singh, associate vice-president at Technopak, says, "Male grooming is one of the fastest-growing segments of the personal care market. Traditionally, men's brands have largely focused on the shaving category only. Other categories have received attention only over the past few years. The male grooming habits have also undergone a change in the past decade with urban men becoming more 'grooming-conscious' and indulging in products targeted at them."
According to industry estimates, male grooming is estimated to be Rs 4,000-crore growing at 25-30 per cent per year. Companies like HUL, Procter & Gamble, Marico, Emami, Nivea and L'oreal have identified the importance of the category - from taking female-centric brands such as Ponds (from HUL) into male grooming to borrowing know-how from international and domestic acquisitions (Marico).
Differentiation, say experts, is becoming critical. JK's Park Avenue beer shampoo is one such offering, say analysts has managed to grab attention in a crowded space. Abneesh Roy, associate director, research, institutional equities, Edelweiss, says, "It is a clutter-breaking product that is competitively priced." While a 200-ml Park Avenue beer shampoo is available for Rs 160, at a slight premium to HUL's Dove and P&G's Head & Shoulders, the latest Speed Shower is available for Rs 149.
The company is expected to use the funds from the 20 per cent stake-sale (estimated at Rs 150 crore) for future expansion and growth.