Fruit Shoot to bank on pester power
Vjmedia Works | August 07, 2014
UK's second-largest soft drinks player, Britvic, is geared for the kids and pre-teen market with its fruit drink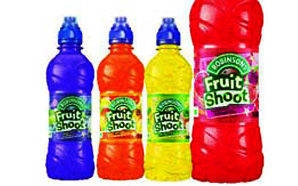 The second-largest soft drinks player (by volume) in UK, Britvic, finally announced its Indian entry on Wednesday. While Britvic is the partner for PepsiCo's business in UK and Ireland, it has its own set of brands in bottled juices, carbonated and still beverages, sports drinks and water, which lend heft to its volume sales.
For its Indian foray, which it has been mulling for over a year, it has chosen Fruit Shoot, a fruit drink under its popular Robinsons brand. Fruit Shoot also happens to be the brand Britvic is taking to its international markets, after a tumultous time in 2011-12 (its stock had tanked following a major recall and then there was a move, later aborted, to get merged with another company, AG Barr). India is the third international market it has ventured into besides France and the US.
Fruit Shoot will target kids and pre-teens. Simon Stewart, managing director, Britvic International, says, "Fruit Shoot is the vanguard of our international expansion. The kid's juice market is very under-developed, be it in France, US or India. Everywhere mostly carton-type drinks are present. So, we will go for the premium end. There is also a global insight that fruit juice is a product which moms endorse and kids are happy to drink."
Fruit Shoot will operate in the fruit drink category that contains less than 20 per cent of pulp (nectar has 25-85 per cent and fruit juice has over 85 per cent).
But even though it will compete with Coca-Cola, PepsiCo and Parle Agro's fruit drinks, it is priced at a premium to their brands such as Mazaa, Slice and Frooti. The 300-ml plastic bottle is priced at Rs 30. "We are not scared of that price tag because we tend to be premium wherever we go."
Reetesh Shukla, associate director, food services, Technopak, says, "The scope for a premium kids drink could be promising because the pester-power of kids plays emotionally on the parents' minds. Hence, they can look to buy a more premium drink when made available. That is how health food drinks demand a premium too."
Marius De Beer, VP and director, Britvic Asia, says, "The flavours were developed based on what the mothers think are important and what the kids find relevant. Mango ruled because seven out of 10 bottles are of mango juice in India." The other variants are strawberry-raspberry, apple-pear and apple-blueberry. Technopak estimates that the fruit drink market was around Rs 4,025 crore in 2013, growing at 15-20 per cent and lorded over by Slice, Mazaa and Frooti (all mango-based). It says that the nectar and juice market is around Rs 1,200 crore, but growing at 20-25 per cent.
In UK, the retail value of Fruit Shoot is around 120-130 million pounds, according to Stewart. Its US presence, too, is being ramped up with new bottler agreements in and two manufacturing lines. In the US, it has activated heavily in the gas (petrol) stations "as the gas market is big there, plus there is a lot of self-service" says Stewart. "So, we ensured that so you could not miss Fruit Shoot in its bright, eye-catching bottles. It was about being at the right outlets" he adds.
Rahul Narang, founder and chairman, Narang Group, which is the distribution partner, says, "It will be about launching in a phased manner. We start with the top-10 cities and move down to the top-35 cities, where 30 per cent of the consumption happens. Out of the FMCG universe of 8 million outlets, we have to be at the right outlets. For activating the brand in the outlets, we would be working with people from Britvic (nine of them)."
But Britvic will have strong competition from the volume players. Frooti, Parle Agro's mango drink, has been working on its distribution too. Nadia Chauhan, joint-MD and CMO, Parle Agro, says that it has grown by 26 per cent this season. "Frooti comes in varied pack sizes, with prices between Rs 5 and 85. Our expansion in returnable glass bottles segment has helped us penetrate further and enter hitherto untapped territories. Our carton pack portfolio has grown with 250-ml bottle packs priced at Rs 15. We want to make Frooti affordable and accessible to every Indian."
Britvic co-markets PepsiCo's brands in UK, besides bottling and distributing. For its own brands, it has been known for large marketing spends too. It has signed on CHI Bates, a WPP agency on its UK roster as well. However, Stewart says, "We are known for our strong marketing campaigns. But for now, our focus would be on being seen and available in stores in the first three months."
The company has set aside about 10 million pounds for expansion in Europe, US and India, though Stewart refused to divulge country-wise allocations.