Ganesh Babu joins And Designs as CFO, Monica Bhandari as CHRO
By Bhawana Anand | Vjmedia Works | October 15, 2014
The new CFO and CHRO have two decades of experience in their respective fields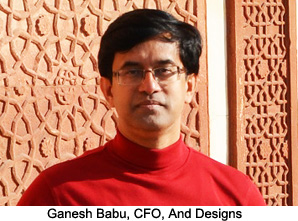 And Designs India Limited (ADIL) today announced that it has appointed Ganesh Babu as its Chief Financial Officer and Monica Bhandari as the Chief Human Resource Officer. With over 22 years of experience in business finance, Ganesh Babu has been associated with leading Indian and global multi-national companies, including with Uninor, Bharti Airtel ,Tenneco Automotive, The Coca-Cola Company and Deloitte & Touche.
Monica Bhandari, brings over 20 years of Human Resources experience, which includes working 14 years at Bharti Airtel and Bharti Walmart. As the CHRO at ADIL, she has taken up the strong agenda of managing transformation of HR and Business processes as part of her role.
Commenting on this strategic move, and investing in senior human resource capital, Mukesh Sawlani, Managing Director, ADIL, said, "We at And Designs India Ltd., firmly believe that to build the company into an institution, good people is the key, and we have worked along with the teams to source the right talent. We have got on board very senior professionals like a CFO and Human Resources Head, both of them equipped with years of vast, and invaluable experience, and joining us from diverse sectors like telecom and FMCG. In the coming months, we aim to engage more such senior resources, to help drive the growth strategy at ADIL."
Established in 1998, And Designs India Ltd. (ADIL) is the brainchild of leading designer, Anita Dongre, and is one of the leading fashion houses in the country. ADIL, owns and operates three distinctly positioned brands - AND (contemporary western wear), Global Desi (Fusion Wear) and Anita Dongre (Bridal, Couture, Pret, Menswear and Pinkcity jewellery)
ADIL's brands are present in more than 53 cities, with 130 exclusive brand outlets and more than 450 department store counters.