Global chains hit the slow lane as cash & carry format turns 10 in India
By Jim Hollen | Vjmedia Works | 1 | December 03, 2013
Until recently, cash-and-carry (wholesale) business looked like a stop-gap arrangement for many international chains like Walmart and French major Carrefour. But, given that no application has come from them for multi-brand retail - even after more than a year of the rules being eased - they continue to be just cash-and-carry players in India.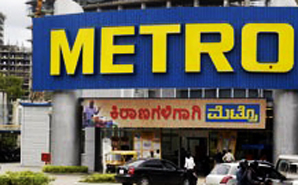 The world's largest retail chain, US-based Walmart, which recently called off its joint venture with Bharti, is a popular name in Zirakpur. When Business Standard recently visited the Zirakpur store - the first time a Walmart facility was accessed by the media since the break-up between the partners - buyers seemed indifferent to the split that had got even ministers talking. The customers -businesses, hotels, kirana stores, offices and even the wholesalers purchasing from this store - appeared focused on getting the best deals on products ranging from grocery to apparel and electronics to kitchenware.
Many like Rajender Singh, who owns Rahul Confectionery in the neighbourhood, visit this 50,000 sq ft facility up to three times a day so that the dairy products they buy in small quantities stay fresh in their refrigerator-less shops. In a way, the Walmart store is serving as a warehouse for kiranas, too. Just a few yards away from the US chain and across the road is an outlet of another international major, Germany's Metro, offering almost a similar fare, but also loose pulses and rice to attract small shopkeepers.
Zirakpur, a sleepy town some 15 km away from the buzzing Chandigarh city, usually comes to life during the wedding season, when banquets do brisk business. Now, the fast-growing wedding destination for the rich non-resident Indians is gaining recognition also for another foreign connection - Walmart and Metro. Walmart Zirakpur draws crowd at all times and is widely known as its flagship.(THE EVOLUTION)
The nearby Metro is still a newcomer but makes the store look roomier - with its LED lights, perhaps! The players here can't afford to forget the lively wholesale grain market at Chandigarh's Sector 26 and the threat of their members going back to the traditional mart.
Stop-gap or main business?
Until recently, cash-and-carry (wholesale) business looked like a stop-gap arrangement for many international chains like Walmart and French major Carrefour. But, given that no application has come from them for multi-brand retail - even after more than a year of the rules being eased - they continue to be just cash-and-carry players in India. Though there are 51 cash-and-carry stores across India from four organised players - Reliance Market from the stable of Mukesh Ambani-controlled Reliance Retail is the most active one - the format has yet to turn profitable for companies. And, in a year that marks completion of the format's 10 years in the country, there's been addition of only one cash-and-carry store by an international player so far (Metro's store in Indore).
By the end of the year, Metro and Carrefour are expected to start one store each in Bangalore. Carrefour refused to reply to a Business Standard questionnaire but sources said some of its Bangalore store's clearances were held up, causing the delay. While Walmart has frozen expansion over internal investigations linked to the US' Foreign Corrupt Practices Act (FCPA), the lone Indian player, Reliance Market, has already opened 11 stores through 2013 and is expected to roll out some more this month, including in Punjab, the American chain's mainstay. The two expats spearheading Reliance's retail business - Rob Cisell and Shawn Gray - have both been old hands at international chains, including Walmart China.

The real take-off
The cash-and-carry format took off in the country in 2003, with Metro's Bangalore outlet. But Walmart's 2009 entry, along with Sunil Mittal-led Bharti Group in an almost equal partnership - and the fast expansion that followed - is believed to have given the category a new identity. Walmart began from Amritsar in Punjab, but soon opened branches in many other towns of the state, known to the Mittals like none other.
At the chain's store on Bhopal's outskirts, also its last outlet in India before an expansion freeze, it was striking to see shoppers coming even from Hoshangabad, some 70 km away, to cater to the growing educational institutions and the Horeca (hotel & restaurant) segment. It was with an eye on this segment that Walmart had in October 2012 set up a store here, though it already had another in the city on the other end. No other cash-and-carry player has any presence in Bhopal. In not-so-far-off Indore, Metro opened a store earlier this year, following Walmart, which had gone there in 2011.
Geography matters in the cash-and-carry segment - players often huddle up at the same place.
East Delhi's Seelampur, a crowded modest locality with large numbers from a minority community, might be an unlikely place for a leading global player like Carrefour. But the French retailer chose this place for its first cash-and-carry outlet in India towards the end of 2010; today the company refers to this store as its flagship. About 20 minutes drive away from Seelampur is a Metro store, a non-traditional format in two storeys adding up to over 90,000 sq ft, in a mall. The two reach out to different kinds of retailers and institutions.
In Ahmedabad, Reliance Market is the sole player, with a floor space of over 100,000 sq ft. In fact, there's no other cash-and-carry player in all of Gujarat, while Reliance has over 200,000 sq ft of area. It has stores in Anand and Bhavnagar, too. Unlike in Punjab, small store owners in this state do not rush to cash-and-carry outlets several times a day for their dairy fill - Reliance Market does not even stock milk in Ahmedabad because of the region's large dairy network.
This, however, does not mean Reliance will stay without any competition for long. Walmart is believed to have already acquired land in the state. Best Price Modern Wholesale COO Arvind Mediratta says: "Gujarat is on Walmart's radar…" Reliance Market's entry into the cash-and-carry segment in 2011, with its Ahmedabad store, was a surprise. It wants to end this year with 20 large-format outlets.
Similarly, Walmart will have to contend with more competition in Punjab. Its strategy for the state has worked so far - it has stores in Amritsar, Zirakpur, Jalandhar, Ludhiana and Bathinda. Metro has chased it all over Punjab, except in Bathinda. Now, Reliance is learnt to be planning to start four stores in Punjab - the first one expected in Mohali, close to Zirakpur, in December itself.
CASH & CARRY 10 YEARS IN INDIA
Coinciding with completion of 10 years by the cash-&-carry format in India, Business Standard visited the facilities of Walmart, Metro, Carrefour and Reliance Market across Punjab, Delhi, Madhya Pradesh and Gujarat. In a three-part series, we assess how these new-age wholesalers are changing the way retailers and businesses buy & stock products.