Godrej Nature's Basket partners with Snapdeal.com
By Bhawana Anand | Vjmedia Works | January 16, 2015
Godrej Nature's Basket, Snapdeal.com, Mohit Khattar, Amit Maheshwari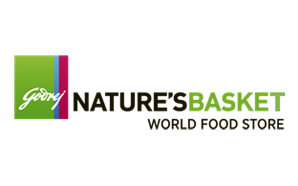 Godrej Nature's Basket, a retail destination for fine foods from across the world, announced its tie-up with Snapdeal.com. Through Snapdeal, the eclectic Indian and international gourmet range from Nature's Basket will now be reaching to consumers in 5000 plus cities, thus expanding the brand's reach significantly across the country. This association makes Godrej Nature's Basket, the sole large gourmet retailer to list its range online on a marketplace platform. The development is a win-win for both partners, where Snapdeal.com has now become the largest marketplace for gourmet products in the country.
Commenting on the association, Mohit Khattar, MD, Godrej Nature's Basket said, "We are thrilled to partner with Snapdeal.com. This is a huge opportunity for the brand to connect with all discerning customers who are currently not serviced by our offline and online formats. We continue to aim to make food shopping a bigger pleasure and enable better and brighter experiences for customers by making it even easier for them to source the finest from around the world."
Godrej Nature's Basket has listed over 700 products on India's largest online marketplace in the first phase and the range will increase exponentially in the coming months. The brand will also introduce its chic gifting options range on the platform. Exclusive and elegant Godrej Nature's Basket gift hampers, catering to discerning and quality conscious customers will make their debut soon.
Speaking on the development Amit Maheshwari, Vice President - Fashion at Snapdeal.com said, "Godrej Nature's Basket is India's leading chain for premier gourmet products and we are extremely delighted to enter into this partnership. Our gourmet category has been receiving an encouraging response from 40 million+ users and this partnership is a strategic move to further strengthen Snapdeal.com's gourmet category. We are sure of a positive response from our customer base and hope fine food connoisseurs will cherish ordering these amazing flavours from around the world. We look forward to a long term and mutually beneficial association with Godrej Nature's Basket"