Hershey's brings 'Kisses' to India
By Retail4Growth Bureau | October 23, 2018
The Hershey Company launched its much-loved chocolate brand Hershey's Kisses in India. Initially, the tear-drop shaped chocolate will be available only in the Southern part of the country.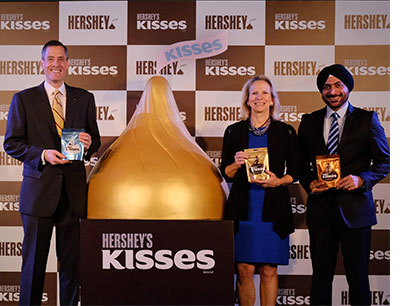 After a decade, Hershey India, a unit of The Hershey Company launched its iconic and much-loved 'Hershey's Kisses' chocolate brand in India to expand its product range in this growing market. Kisses will come in three variants – creamy milk chocolate, Almonds and cookies & crème flavour.
The drop shaped bite-sized milk chocolate is priced at INR 50 for a small pack of 36 g, while 108 g will be available at INR 140.
In the first phase of the launch, Kisses will be available only in the Southern part of India. It will be available in Modern Trade, Large General Trade and e-commerce in Tamil Nadu, Andhra Pradesh, Telangana, Karnataka and Kerala.
Hershey's is also in the process of analysing a plan with e-commerce companies like Amazon, Flipkart and Snapdeal. "There are not many e-commerce platforms that will provide cooling system till it reaches the end consumers as we want the chocolate to remain intact. We are also in talks with Big Bazaar, from a grocery perspective as they also have cooling solution for end consumers," said Herjit Bhalla, Managing Director, Hershey India.
Explaining the reason for choosing Southern India, Bhalla said, "Right now our focus is on building the brand in Southern India, a market which accounts for one third of the chocolate market in India. South has a number of elements; they allow us to earn and it's an experimental market for us. Kisses is an iconic launch and we want to make sure we get that right."
The Hershey's Kisses range in India is the result of intensive R&D and consumer testing to develop the right taste profile for discerning Indian consumers who seek premium chocolate.
"The traditional trade is very high in India, with hundreds and thousands of stores. However, chains have a struggle in regular store environment to really make modern trade grow in the same way. Market like China have developed modern trade and have an incredible infrastructure around distribution. It is a matter of infrastructure, capability and evolution and I think India is on forefront of lot of that evolution starting to happen and things will move very quickly," Steven Schiller, President, International, The Hershey Company told Retail4Growth.
The journey of the Hershey's brand in India started a decade ago with the introduction of the Hershey's Chocolate Syrup. More than two years ago, Hershey launched delightful products in Milk Shake and Chocolate Spreads that were immediately embraced by consumers. In 2018, Hershey's became the No.2 brand in Chocolate Spreads and the No. 3 brand in Milk Shakes within two years of launch.
Similar News
The café chain has further plans to expand its outlet in various other cities.
Launching their yearly campaign, Kuchh Achha Ho Jaye, Mondelez India has planned to launch a series of in-store activations for their MT and e-comm spaces, while GT will also get its visibility share.
The promoters of the nonagenarian brand of milkshakes are leveraging its heritage to attract young consumers
Launched in 2015, LuvIt range of chocolates from Global Consumer Products, is beginning to make its mark in the confectionary category dominated by international brands which have been around in the Indian market for decades. In conversation with Point-Of-Purchase, Punyabrata Dashsharma, Senior Manager, Marketing, Global Consumer Products, talks about how the importance of shopper marketing in this competitive category, value of branding at the GT space in this country and how local brands like LuvIt can make a splash when positioned well.
The focus of The Almond House team is now on building the marketing strategy for the stateof the art product they showcase. They are trying to have a live stream of kitchen cameras and want to introduce a hyper sterilized production facility.