Heterogeneity motivates temporary price discounts
By Marthy Barmejo | May 25, 2015
The study proposes a method for constructing price indices when retailers use periodic sales to price-discriminate among heterogeneous customers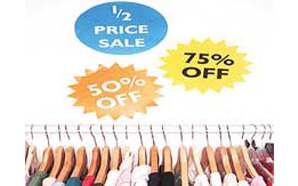 Heterogeneity motivates temporary price discounts by retailers, finds a research paper, 'Best Prices: Price Discrimination and Consumer Substitution', published by Anil K Kashyap, Booth School of Business, University of Chicago, and Judith A Chevalier, Yale School of Management. The study proposes a method for constructing price indices when retailers use periodic sales to price-discriminate among heterogeneous customers.
To do so, it introduced a model in which loyal customers buy one brand and do not strategically time purchases, while bargain hunters always pay the lowest price available, the 'best price'. The study derives the ideal price index and demonstrates empirically that accounting for the best price construct substantially improves the match between conventional price indices and actual prices paid by consumers. The study also concludes that the methodology improves inflation measurement without imposing an unrealistically large burden on the data-collection agency.
The model demonstrates that unit value is the ideal index; changes in the unit value index are associated with changes in consumer utility as long as storage costs are negligible. By the very nature of second degree price discrimination, the seller optimally sets prices to encourage deal-driven brand switching only by those consumers who have the least disutility from switching brands. Indeed, in the model, only those with no disutility from switching brands actually switch them.