Hidesign appoints Narresh Mehtta as COO
By Elke Moebius | Vjmedia Works | August 01, 2014
Narresh Mehtta has 25 years of experience across various industries like FMCG, engineering, healthcare, apparel and retailing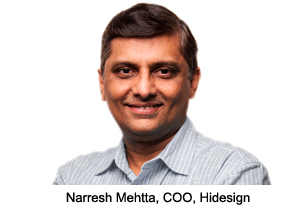 Hidesign, a leading luxury brand in the lifestyle retail sector, has appointed Narresh Mehtta as its new Chief Operating Officer (COO) who will report directly to the Founder and President of Hidesign, Dilip Kapur.
Mehtta's history of experience vouches for this step taken by Hidesign. With his experience in FMCG, engineering, healthcare, apparel and retailing, his new role will involve overseeing the daily operations, provide company-wide alignment and help shape the company strategies. This will be backed by his knowledge on operations, leadership and organisational skills. To his credit, he has earlier been sponsored for prestigious programmes such as the Strategic Management Program by Ross School of Management, Michigan University.
"We are very pleased to have Narresh on board with us. He brings with him immense experience and we are sure he will play a significant role in the continued profitable growth of Hidesign along with increasing customer value", said Kapur.
"Narresh is the right person to help implement systems and processes and be a part of the leadership team as the brand enters a phase of rapid growth into new geographies and categories." adds Vikas Kapur, who manages Hidesign's international businesses.