Hidesign lands at Hyderabad airport
By VJ Media Bureau | Vjmedia Works | February 18, 2013
The brand believes retail at airports is significant for the development of the brand internationally.
One of the leading luxury leather brands, Hidesign, has unveiled its second largest store at the domestic terminal of the Rajiv Gandhi Airport, Shamshabad, Hyderabad.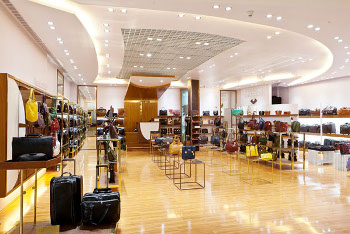 The Hidesign store has been designed by Gudjon Bjarnason within 30 days and presents customers with a complete brand experience. Features such as a sensuous leather wall behind the cash counter, wooden horizontal display shelves, and the embedding of the solid brass Hidesign'bull' logo onto the teakwood floor are true to the ethos of custom designed exclusive stores. Glowing custom-made solid brass display racks merge beautifully with the trademark warm colour scheme of the store, in brown, cream and white.
The store showcases the latest collections of Hidesign handbags, men's bags, travel bags, laptop bags, duffel bags, backpacks, wheelies, cross-bodies and briefcases. Accessories like belts, wallets, purses, card and passport holders, and ranges of other small leather goods are also displayed.