High costs, low returns inhibit developers about malls
By Chaitanya Muppala | Vjmedia Works | November 05, 2014
According to JLL, only 2.4 mn sq ft of new mall space will be completed across the country this year, compared to an average of 4-7 mn sq ft between 2009-13
Developers across the country are shying from building malls due to high land costs, spurt in property prices and saturation of the market.
According to property consultant Jones Lang LaSalle (JLL), only 2.4 million square feet (sq ft) of new mall space, which consists of just six to seven malls, would be completed across the country this year, as compared to an average of four to seven million sq ft between 2009 and 2013.
Though region-wise data were not available, consultants said the trend applied mostly to developers in big cities such as Mumbai and the National Capital Region (NCR).
"At the moment, we are not bullish on malls. The development of such properties takes three to four years and you can't predict how the markets will behave when ready," said Rajeev Talwar, an executive director at DLF, a developer.
"We are not looking to build malls in Delhi and the NCR now," Talwar said.
So, apart from the 1.9-million-sq-ft Mall of India in Noida, which would be the largest in the country once ready, DLF is staying away from this category now.
In Mumbai, the Runwal group, which operates four malls in the city and Thane, said it was not building new malls due to high land prices and construction costs.
"The growth in consumption has not kept pace with the growth in land prices, which has made building malls unviable," said Anupam T, its chief executive, malls.
According to Anupam, Mumbai land prices have gone up 50 times in 10 years but the consumption has grown three times and rents have doubled in 10 years, making malls unfeasible for developers.
In 2005, developers could buy an acre for Rs 2 crore. Today, you have to shell out at least Rs 100 crore an acre. But rents have gone up from Rs 60 a sq ft to Rs 120 a sq ft during this period," Anupam said.
Developers prefer residential projects because prices have gone up six to seven times since 2000, he said.
K Raheja Constructions-led Infiniti Mall, which has two malls in Mumbai, is looking to build malls only if these are viable, said Vice-President Mukesh Kumar. "Chennai, Mumbai and Bangalore are saturated. So we are looking at opportunities in Tier-II cities," Kumar said. Prozone Liberty has converted part of its retail projects into residential ones.
The TTK Group changed its plan for a mall project on a 6.3-acre site in Dooravani Nagar, Bangalore, into a residential project a couple of years ago.
Failed malls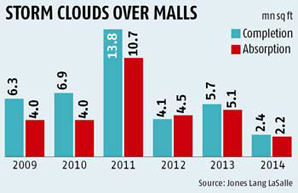 Faced with a slow economy, low footfalls and, in most cases, high vacancy levels, about two dozen malls across Mumbai, Delhi-NCR, Bangalore and other cities have been put on the block by their developers/owners to raise funds.
An estimated 120 new malls have come up in the country over the last two years, of which 30-40 have either shut down or became non-functional due to poor footfalls and poor management, mall consultants say.
While in Mumbai and the planned satellite town of Navi Mumbai, investors and buyers in at least four malls are looking for an exit.
At least four to five such malls in Delhi-NCR, especially in Rohini, Vasant Kunj, Pitampura and Gurgaon, are lying vacant and looking for buyers, consultants said.
"It is clear that developers have understood that building malls calls for a specific expertise. Only those who are looking to build portfolio of malls are going for it," said Ashutosh Limaye, the head of research at property consultant JLL.
Limaye says that even now, retailers are facing shortage of quality malls in cities. According to him, though the average vacancy rate in malls across the country is as high at 19 per cent, that in the country's high-grade malls does not exceed 10 per cent.
Retailers such as Tata-led Trent are increasingly looking at high streets to open their fashion-led department stores due to high common area maintenance (CAM) charges, electricity charges and so on.
But, in smaller cities, malls are being built.
"Places such as Kota, Indore, Thiruvananthapuram where land prices are around Rs 1000 per sq ft, developers are building malls," an executive from Trent said.
Kishore Biyani's Future Group is adopting a strategy of opening stores in a mall, high streets and independent stores.
"Overall, real estate prices have gone up and residential real estate is giving better returns to developers, which is why they are focusing on the non-mall segments," said Rakesh Biyani, the joint manging director at Future Retail.
Biyani is bang on. According to Susil Dungarwal, the founder of mall management firm Beyond Squarefeet, while a developer has to wait for five years, which included three years of construction and two years of operations, to make 15 to 20 per cent returns, in residential property, they can make money even before the launch of the project.
"Residential is instant gratification but in malls, you get money every year plus appreciation in property," he said.