High expenses behind Godrej food chain exit from NCR
By Chaitanya Muppala | December 28, 2016
The 11-year chain was shutting all its eight stores in the NCR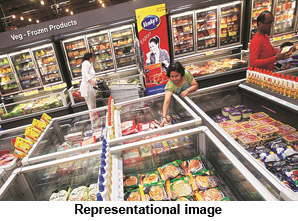 High rents and operating costs might have forced Godrej Nature's Basket to shut stores in the National Capital Region, said retail veterans.

The 11-year chain was shutting all its eight stores in the NCR, it was reported on Monday. Apparently, the chain would cater to customers through online marketplaces.

"NCR is one of the biggest markets for products like theirs...But, rents and cost structures are very high to run physical stores. They must have thought, let's do online now and come back later when times are right," said Raman Mangalorkar, chief executive at data analytics firm Atom Data Lab and former head of consumer and retail practice for Asia-Pacific at AT Kearney, a global management consultant.

Mangalorkar said it did not seem logical that the chain would exit NCR permanently.

Bappaditya Basu, national director at property consultancy firm JLL India said Nature's Basket went to many High Streets in the NCR which come with steep rents.

"Many places have rents of Rs 1,000 per square feet per month. In this kind of rent, it is difficult to make money for a supermarket or hypermarket chain," he said. If a chain runs a store of 1,000 sq ft, it needs to pay a rent of Rs 10 lakh. "If a store pays out at least five per cent of sales, it needs sales of Rs 2 crore a month which is not possible in all cases."

He said the supply chain and logistics issues were also greater in NCR as compared to other cities.

Susil Dungarwal, founder at mall management firm Beyond Squarefeet and former chief executive of The Loot, said there could have been wrong judgement in selecting store locations and catchments.

"NCR is the best market for their products. Either they selected wrong markets or wrong catchments. Otherwise, there is no reason to say they will focus on only online," Dungarwal said. It was also possible the chain had not understood the Delhi market well.

"That market is a little snobbish. They should have positioned their brand differently than a normal supermarket," he said.

Avani Davda, managing director of the chain, in an e-mailed response, said Nature's Basket, being an omnichannel player, would cater to its customers across markets. "We are at a very interesting inflection point and are committed to redefining India's freshest and finest food experience. Towards this, we have outlined a clear roadmap for the business to achieve its target of Rs 1,000-crore revenue by FY21."

She said the chain's transformation entailed consolidation in certain markets and sustainable profitable growth that would materialise over the next three to five years.

"As part of this transformation, we will serve our customers through the brick-and-mortar stores in certain markets and through the online channel in all markets. Store openings and closures are a part of any retailer's growth journey," She said.

"We are choosing to do that in our largest and strongest markets that have the highest potential for penetration and growth, which are the south and the west," she said.

She said the chain's existing and new stores would be transformed, leading to become the 'freshest and finest' neighbourhood store.

She said new store design would be unveiled by early FY18. The chain is also banking on in-house brands to boost its topline, margins and faster profitability.
In a recent interview, Davda said it was nurturing four to five in-house brands, developed after customer feedback.

It has newly launched nutritious food brand Healthy Alternatives and has about 90 stock-keeping units with products, such as organic grocery, natural fruit chips, gluten-free super-grain pasta, Greek yoghurt, forest elephant rice and floral honey, among others.

"What you've got right now is a fair bit of uncertainty about what the state of the world will be next year with taxes," he said. "If you don't have to do this deal

right now, maybe you can wait until next year so you can finance optimally."

Still, some boards appear to believe they may get a better price if they sign a desired deal sooner rather than later. If tax rates decrease, a company's profitability

increases, making it a more expensive acquisition target. And, if all of the repatriating companies go after the same targets, that could drive up the price as well.

"What people fear is that if everyone waits for clarity on timing and specific tax treatment, the markets could be a lot higher, purely as it relates to this influx of capital," Peter A Weinberg, founding partner at Perella Weinberg Partners, said. "Do you commit capital today with the risk of timing, or do you wait for certainty and risk paying more than you would today?"

Weinberg said that if there were a significant reduction in the tax rate, companies would bring at least $1 trillion back, an amount large enough to affect the prices of equities and debt.

Some companies may not be interested in deal making. But these companies will not get away with simply letting the cash sit on their balance sheet unused for too long.

"If the money is coming back, it would be hard to tell investors, 'I have access to it and you're not getting it,'" Zenner said.