Hugo Boss CEO Mark Langer steps down
By Retail4Growth Team | March 27, 2020
Due to the current ongoing challenges caused by COVID-19, Langer will act as a consultant from 30 September, until the end of 2020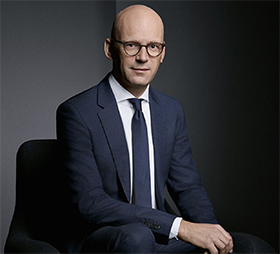 Luxury fashion brand Hugo Boss announced that CEO Mark Langer will leave the Managing Board, as of 30 September 2020.
Due to the current ongoing challenges caused by COVID-19, Langer will act as a consultant from 30 September, until the end of 2020. The Supervisory Board will immediately focus on the search for a successor.
Hugo Boss expressed its gratitude Mark Langer for the many years of successful work as member of the Managing Board of Hugo Boss, both as Chief Financial Officer and, since 2016, as Chief Executive Officer.
Michel Perraudin, Chairman of the Supervisory Board said in a statement: "During his tenure as Chief Executive Officer, Mark Langer has successfully restructured and repositioned the company.
"The focus on the two brands Boss and Hugo as well as the significant progress within the online business, the company's own retail network and the Asian business are clear evidence for that. In doing so, he has laid out the path for sustainable growth. I want to thank Mark Langer for his work and wish him all the best for his professional future."
Mark Langer added: "In light of the passion and the commitment of its globally almost 15,000 employees, I am convinced that Hugo Boss will get out of the current difficult situation even stronger and continue its successful development."