I don't believe in flash sales: Arvind R Vohra
By Reena Mehta | June 29, 2015
Interview with Country CEO & MD, Gionee India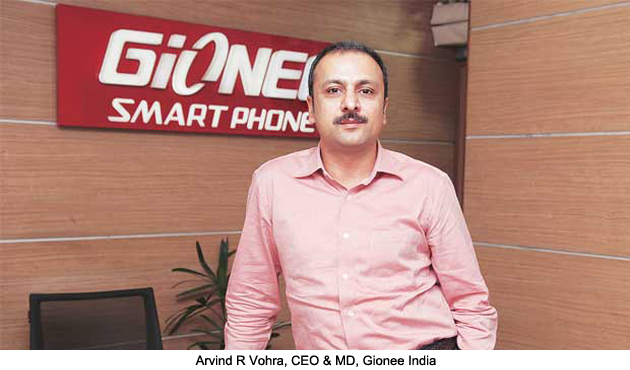 Online players are only playing on price to lure customers. There is no value addition, Arvind R Vohra tells Ankita Rai
Gionee was among the first Chinese brands to enter the Indian market in 2013. How do you differentiate yourself from your peers?
Whether you buy a Gionee phone for Rs 6,000 or Rs 30,000, the user experience will be good. We don't want to compromise on user experience for better specifications. For us, pricing is a function of technology. If you have a good product, it is not difficult to differentiate yourself from competitors.
This year we target to sell 40 million units globally. The industry size in India is close to about Rs 100,000 crore. The bottom of the pyramid that accounts for 60 to 65 per cent of the volume only accounts for 20 per cent of the value. It is the top end where the real business is - 40-45 per cent volume. To capture this market, you need to have brand, product and quality in place.

Most of the late entrants in the smartphone space like Xiaomi and Motorola leveraged online channels to cater to tech-savvy but price-conscious urban buyers. These new players disrupted the market by entering into exclusive arrangements with leading online players like Flipkart and Amazon. However, Gionee is currently selling only through offline retail. Why?
I don't believe in flash sales. We chose not to be on online channels till they respect our company pricing. Online players are only playing on price and trying to lure customers. There is no value addition. I am not opposed to the online channel but I am opposed to a situation where a company's price is not respected, especially in a marketplace model. We would like to expand our online footprint with other players in the course of time.
Our focus is on good hardware, design and consumer experience. Pricing is also a part of consumer experience.

Do Chinese brands still face a perception problem in India? Did you face a similar problem? How did you work your way around it? What are your key focus areas?
Yes, we did face a problem when we just started selling phones in India. People didn't trust us. But we never hid the fact that we are from China. Why should we hide our lineage? We focused on quality, superior service experience and hardware. Today we have 800 service centres. The turnaround time on devices is 87 per cent in 72 hours. Consumers are looking for value proposition in the premium segment. For low-end smartphone handsets, specifications is the key. But the brand becomes essential when you are selling devices beyond Rs 20,000. Consumer experience becomes a key in this segment.
We are also working on applications. Our belief is that mobile internet is going to be much bigger than the mobile phone business. The internet revolution will come on the handheld not the tablet or the PC. So that is the reason we have not compromised on specs. All our phones are internet ready. Our research shows that the average time spent by our users on mobile internet is very high. It means a customer who buys a Gionee phone access the internet and applications from here. The idea is to get hold of this ecosystem to have recurring revenue models in place. Our sales from Tier-II and Tier-III cities are high but now sales are also picking up in metros like Delhi and Mumbai. On an average, our sales are worth Rs 200 crore per month.
Analysts say focus on research and local production will help Chinese firms offer high-end features at low prices, positioning them well to tap the Indian market. Gionee also plans to set up a manufacturing base in India with an investment of Rs 300 crore in the next three years. Please share your 'make-in-India' plans.
Over the last two years, the Indian market has grown. You need some basic volume before deciding whether it make sense to set up a local manufacturing unit, which works in our case. Last year we sold about four million handsets. This year we plan to sell six million handsets. In R&D, we have about 400 employees in China and in India we already have a dozen people working. We plan to have at least a 30-35 member R&D team.
Today the biggest smartphone market is China. In the next two to three years, the Indian market will be bigger. For the first time, the Chinese market has faced a slowdown. Manufacturing locally will lead to better time to market. Second, with an ecosystem in place, it might be more economical. We are not going to use Indian operations just for India, but also for SAARC and Africa.
We have been investing in the India market for two years now to build brand equity. Our marketing investment last year was Rs 132 crore. This year we have planned around Rs 225 crore. In-shop branding and digital will get the maximum share of the marketing spend. Also, we will invest in properties - we recently worked with IPL. If you look at the magnitude of business, in 2013 we did business of about Rs 500 crore while in 2014 it was Rs 2,750 crore.

How important is customisation in the smartphones segment? Do you plan to offer customised phones for the Indian market?
Customisation happens when you start working on your own layer on top of android in terms of OS. Hardware customisation can be copied but software customisation cannot. We have software customisation platform called Amigo. It is all about customising how much a phone can process. That's where the software capability comes in.
Cut-throat competition in the Indian market has led to new Chinese entrants to adapt plans previously tried out in China. What are your key learnings from China that you could adapt in India?
The biggest learning was in the distribution model. We never went pan-India and didn't have too many distribution layers. Instead of tying up with large distribution partners, we associated with regional players. While building a system was a challenge, we jointly built it along with our partners. So we could cut dramatically on cost. It also helped us to capture the local market as our partners were well-known in their respective regions.