IKEA hasn't won the online game anywhere in world: Asish Goel
November 30, 2015
Interview with Co-founder, Urban Ladder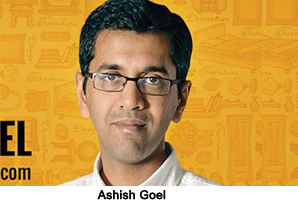 Just before investing in Urban Ladder, former Tata group chairman Ratan Tata had a message for its co-founder, Ashish Goel: "Keep your focus on design, understand you should help the Indian homemaker experience and understand good design when you build the business". So far, Urban Ladder has raised $77 million (Rs 500 crore) from six investors, including Sequoia Capital and Kalaari Capital, besides Tata. Goel is gearing up to take on Swedish furniture maker Ikea, which is betting highly on India by opening stores here. "In every city, they will (open their stores), we will be their incumbent," Goel says in an interview with Raghu Krishnan. Edited excerpts:
You design the products. Do you also manufacture the furniture?
We design ground-up. We have contract manufacturers, 95 per cent of the work we do with people who are captive to us. We have grown 500 times since we started. Most of our contract manufacturers have grown with us. For scale, we do get furniture from factories in China. There, too, it is our design and they manufacture to print.

When demand scales up, how do you maintain quality and consistency?
Any kind of scale-up is a function of people and process. We have really worked hard on putting together the right team and investing to make sure they are very well trained. Every time the business grows ballpark three to four times, you have to systematically break down 70-75 per cent of the process and build on the remaining process. We are building a very strong foundation, on top of which we can build a skyscraper for the next 15-20 years.
What happens when Ikea and others come into the market?
That is where the real competition is. We have been preparing for it for the past one and half years.
With offline stores?
We will not have offline stores. Let us say that in two years from now, the first Ikea store opens. We have two years to get to a point where the Indian consumer says I have got brand Urban Ladder, a brand I love and with products that are fantastic; pricing is great, service is off the charts and it is delivered in the convenience of my home. When I have got brand Urban Ladder, why should I lug myself halfway across the town, with crazy traffic and with no public transport? That is the point we have to get to. As much as we ask ourselves this question, really speaking, it should be Ikea that should be asking this question.
What will prevent them replicating your online model in India?
They have not won the online game anywhere in the world. They don't understand it. They are smart people. If you had asked me the question 12-15 months earlier, I would have given you a slightly different answer. We will not go head-on with them. We will create a brand that is a little different from what Ikea will do.
Now, in the last year, we have grown four to five times. Our catalogue has grown, our customers have grown, that interestingly has led to us become little more confident to say: Can we get to a point where all the cities that Ikea opens their store, before the day they open, we will be there with a revenue run rate that will be higher than the revenue run rate they will be one year from then. Which means every city they will open, we will be their incumbent. This means, we will be doing Rs 30 crore plus monthly revenue in each of these cities.
Do you require additional funding to reach that scale?
We will require additional funding. The reason will be simple. You will be surprised how much thinking we have done on their business model and their thinking. Ikea will be investing around Rs 800 crore per store in the first two odd years, all put together including capital expenditure. Let us assume five stores, plus whatever they invest in backend. It is Rs 6,000 crore. We are saying we will be dramatically more efficient with only 25 per cent of the capital required. That is ballpark — Rs 1,500-2,000 crore. In my sense, the next 18 months, we will end up raising roughly $150-200 million.
Besides furniture, would you get into advising people to design their homes?
We offer that service today if customers ask us. Right now, it is not a seamless experience. We are working in the back-end. By January-end we will have an offering to give that seamless experience.
As an e-commerce company, what is the business model?
There are two things. Can you do things the right way and build business? Absolutely you can. There are more examples. Tata group is one. Second, as an e-e-commerce company, do we have a path to profitability? We certainly do. The reason is simple. We are building a consumer brand and we are not building a discounting led valuation driven business.