Indya opens its door in Oberoi Mall
By Retail4Growth Team | April 17, 2019
The launch marks the omni-channel fast fashion brand's third exclusive retail point in Mumbai.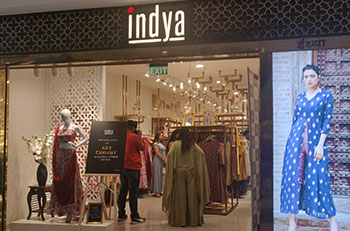 Oberoi Mall announced the launch of Indya, a store by High Street Essentials Pvt. Ltd (HSE) at the Oberoi Mall, Mumbai , marking the retail brand's third exclusive retail point in the city.
The design aesthetics of the store are in sync with the brand philosophy; housing a widespread range of ethnic-fusion wear with East-Meets-West silhouettes and contemporary details.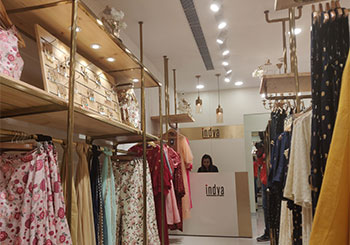 The store retail the latest collection – called Stories of Summer, in addition to a handful of curated statement pieces.
Tanvi Malik & Shivani Poddar, co-founders of HSE said at the launch "Indya was launched to eliminate the hassle of unorganised boutique trips for women and offer them a fuss-free, ready to wear wardrobe for every occasion. Our entire collection is an amalgamation of global trends and Indian silhouettes, creating a high street for Indian wear."
Speaking about the launch, Anuj Arora, General Manager, Oberoi Mall said, "The launch of Indya brings with it an exciting new addition to the ethnic wear collection at Oberoi Mall. With this new store launch we are able to explore and cater to a whole new segment of customers who are 'fans' of ethnic wear apparel. Oberoi Mall has always been open to bringing in a diverse bag of global and home iconic brands that enables our customers to enjoy a wide selection of fashion brands, F&B offerings, entertainment options and host of facilities and services that ensures a 360 – degree mall experience for them each time they visit Oberoi Mall."
India's ethnic wear industry is currently pegged at over INR 82,200 crore and is expected to grow to Rs 1,26,210 crore by next year, according to consultancy firm Technopak. This market is dominated by the women's ethnic wear segment at 83 percent.
Similar News
The store, spread across 1600 sq. ft., is situated in the prime area of Dhanbad and is part of the company's plan to maximise reach in tier 3 and 4 markets.
The premium Indian menswear label has announced its newest & third store at Sarath City Capital Mall in Hyderabad.