INSYNC to unveil SMART SHOPFITS at EuroShop 2017
By VJ Media Bureau | Vjmedia Works | February 16, 2017
Transforming Brick-n-Mortar to Click-n-Mortar
INSYNC Shop Fittings is launching a new range of smart shop fitting that transform shops into smart shops at EuroShop 2017 at Dusseldorf, Germany.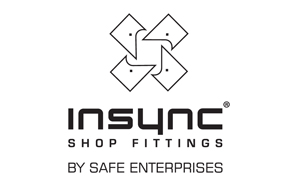 Retail is changing like never before, and so are the stores. Thanks to new technologies, it is easier than ever for retailers to tailor every customers' experience. As stores today need a repositioning, given the Omni channel world we live in what can you do to maximise this effect?? To know more visit INSYNC Shop Fittings at EuroShop 2017 - Hall No 11/H41. At EuroShop 2017, INSYNC is launching a new range of Smart Shop Fitting that transform shops into smart shops!

The power of Smart Shop Fitting solutions are blended with custom designed fixtures & furniture for unique retail solutions. With the online experience becoming more and more trendy for the shopper to enjoy shopping on the digital screen, the need is to make it innately lit, sensorial with experiential quality, as physical stores have the potential to become powerful media points from which retailers can articulate their brand story, excite consumers about products and then funnel their purchase to any number of channels, devices and distributors. The physical store still has the potential to be the most powerful and effective form of media available to a brand because it offers an experience, which if crafted properly, cannot be replicated online. So do visit us at EuroShop 2017 at Hall 11, Booth H 41.