ISA 2018: Speaker - Anurag Sehgal, Experiential Design Lab
By VJ Media Bureau | February 12, 2018
Anurag Sehgal co-founded Experiential Design Lab Private Limited, India (EDL) and iThink Interaction Design FZC, UAE (iTHNK). Anurag passionately believes in interaction design, that treats technology as a medium and not a product, as a harbinger of people-friendly innovation through its processes, methodologies and mediums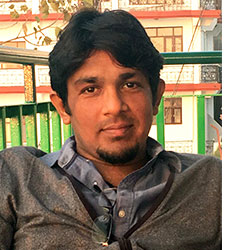 Anurag Sehgal, Founder Director and Principal Interaction Designer, Experiential Design Lab , India and iThink Interaction Design FZC, UAE will participate in the Panel Discussion on 'Digitizing the Store Experience in India' at In-Store Asia 2018, the largest retail experience expo and convention in the Indian subcontinent, which is scheduled to be held between 22nd-24th February 2018 at Bombay Exhibition Centre, Goregaon, Mumbai. Anurag Sehgal co-founded Experiential Design Lab Private Limited, India (EDL) and iThink Interaction Design FZC, UAE (iTHNK). The companies are working with prestigious brands, like Asian Paints, Van Heusen, Sleepwell, Dubai World Trade Center, Air Arabia and Canon Middle East to name a few, in helping the brands derive their unique Digital Transformation Strategies and also assists in implementing the same.
As the Principal Interaction Designer, he leads his companies' efforts in:
• Supporting and partnering with existing businesses to transform their core product and/or service offerings by making them technology-enabled and digitally supported
• Helping businesses transform their customer-engagement strategy via a digital experience enabled customer-journeys
• Supporting and partnering with new and existing startups through infusion of strategy and technology-aided innovation
His companies have received international acclaim and awards and continue their efforts on various next-gen industries in India and UAE like smart-furniture, agri-tech, smart-training, fin-tech, digital-accessories, smart home-appliances and lighting etc. Anurag passionately believes in interaction design, that treats technology as a medium and not a product, as a harbinger of people-friendly innovation through its processes, methodologies and mediums - by bringing the physical and the virtual, the offline and the online paradigms seamlessly together. With a Masters in Interaction Design at Ivrea, Italy after his graduation in Fashion Design from N.I.F.T., New Delhi, Anurag started his journey towards interaction design with his graduate thesis in wearable electronics, the love for which has deepened through his own companies and the several startups they are supporting and steering.