Jewellery companies cut retail stores amid policy restrictions
By Chaitanya Muppala | Vjmedia Works | December 06, 2013
Kolkata-based Shree Ganesh Jewellery House shuts down 10 retail stores, others set to follow suit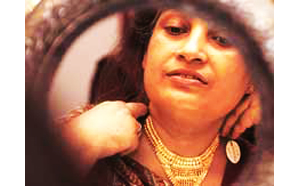 The Reserve Bank of India (RBI)'s move to close the gold loan window for domestic jewellers has created a lot of unrest in the Rs 4,78,000-crore Indian gems and jewellery industry. While the Rs 2,51,000-crore domestic market faces a massive cut in store size and closure of retail chains, the Rs 2,27,0000-crore jewellery export segment expects a tough time ahead.
One of the reasons for the crisis is the ban on advance letters of credit (LCs). Companies were availing themselves of "gold loan schemes" by obtaining LCs from banks to procure raw material. After banks refused to issue LCs, the companies started facing a working capital squeeze. Also, the 20 per cent mandatory supply of imported gold for exporters restrained bullion availability for jewellers
Consequently, many companies started shutting down stores. Kolkata-based Shree Ganesh Jewellery House (SGJH), which incurred a Rs 1,048-crore loss, shut 10 stores in September.
"We have shut down 10 retail stores across the country in the last quarter. We have just three retail stores now," said Umesh Parekh, managing director of SGJH.
Mumbai-based Tara Jewellers has seen a fall in net profit — from Rs 24.4 crore in the September quarter last year to Rs 22.7 crore this time. That the company has had to buy gold with upfront cash payment has increased the finance cost, leading to a fall in profit. An official of Tara Jewellers said, "In view of the stringent gold supply policy, the company is redirecting its approach for the domestic market." The firm owns 50 stores; it is reviewing the policy of owning retail stores.
Tata Group's Tanishq is looking at expansion plans cautiously. "Large-format stores are being opened; the launch of small stores depends upon their strategic locations and potential of profitability," said Sandeep Kulhalli, vice-president (retail and marketing), Tanishq.
Even unorganised sector players have reduced their size of retail stores to cut the high realty and manpower costs. LCs allowed jewellers to raise funds from banks at the prevailing interest rate for repayment after selling of products in six months.
"The RBI action has created a huge liquidity crisis with the expansion of many companies currently at stake. Jewellers have started reducing store size to control expenses as the liquidity squeeze has doubled the cost of funds to 12 per cent from six per cent earlier. Many jewellers working at less than 10 per cent margins cannot afford such a high cost of funds," said Haresh Soni, chairman of All India Gems & Jewellery Trade Federation.
"It is true that paying 100 cash upfront to procure raw material and claim the duty component under duty entitlement passbook scheme after exports has sucked working capital to some extent. But, jewellery exporters in the export processing zone are working smoothly, players in the domestic tariff area continue to face problems," said Vipul Shah, chairman, Gems & Jewellery Export Promotion Council.
According to Parekh, gold imports through around 20 star trading houses across the country have been stopped. Only the government canalising agencies like MMTC and STC are allowed to import gold that sells the bullion at around $200 premium.
Mehul Choksi, managing director of Gitanjali Gems, said his company has changed strategy to focus more on diamond than gold.