Khan Market's poor cousin? Not any more
By Tim Radley | Vjmedia Works | February 22, 2014
If it\'s an eclectic mix of the quirky and the fashionable that you are looking for, then it has to be Mehar Chand Market, Delhi's new high street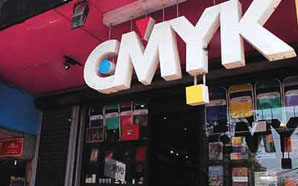 As soon as you take a turn from the leafy avenues flanking India Habitat Centre, Lutyens' Delhi's cultural hub, you are accosted by sights of car maintenance workshops and unimpressive grocery stores. At first glance, Mehar Chand Market doesn't come across as the glitzy high street that it's made out to be. But a walk down the street changes all such notions about the place. Located at the edge of Lodhi Colony - a residential area for Central government officers - it presents an eclectic mix of the fashionable, the delectable and the quirky in one quick succession. Once known as Khan Market's poorer cousin, Mehar Chand market has truly come into its own in the last two years. The traditional tailor shops and tent houses have been replaced by designer labels, swanky interiors stores and European-style brasseries.
THT by JJ Valaya, fashion labels by Pia Pauro and Masaba Gupta and eateries like Elma's Brasserie share space with old inhabitants like Gopala Dairy and MI Meat Sellers. If it's ethnic wear you need with a contemporary twist, there is Soma, and for custom-made leather handbags crafted using traditional techniques like hand painting, opt for Risa. For those who wish to add a Bohemian or classic touch to their home decor, there are countless choices such as Nivasa with its bespoke collection or Stack It for kids. The healthy eaters must visit organic food stores like Nourish and Altitude or enrol for Ashtanga yoga classes for "holistic wellbeing" at The Yoga Shala. For an assortment of Flanders dairy products like cherry mozzarella, cumin gouda and oregano mix goat cheese, Cheese Ball is a must visit. The rare places where the shutters are down, one can find signboards announcing opening of new store s in the future.
There was a time, three to four years ago, when a visit to Mehar Chand was an afterthought - maybe after a meal at Habitat's many restaurants or on the way back from Khan Market. There were a handful of stores like CMYK and Crazy Daisy that had opened up to avail the low rentals in the area vis-a-vis the more expensive retail spaces in the vicinity. "In 2000, the rentals were as low as Rs 20,000 for a 400 sq ft space. 75 per cent of the area was populated by tailor shops and the rest by tent houses," says Vipin Kumar Sharma of JBB Developers who has seen the market grow. Jagriti Chadha, owner of Crazy Daisy which is known for its vibrant, and often whimsical, home decor accessories, recalls how sleepy the market used to be four years ago. "But the fact that it is smack bang on a very visible road worked in its favour," she says. Coupled with the fact that its neighbour Khan Market ran out of space and went out of reach because of the rentals.
The entrepreneurs who set shop in Mehar Chand 2005 onwards were united in their choice to avoid the homogeneous mall culture in the city. Designer Pia Pauro was one of them. "I live in Jor Bagh so I have really seen Mehar Chand market come up. We were one of the first fashion boutiques to open up here as the rents were reasonable and one could get the right kind of clients from Lodhi Colony and Jor Bagh," she says. Pauro and other store owners spread the word about the many attractions of the market and motivated their friends to open concept stores here. Today, Mehar Chand is one of the rare markets that can boast of a very strong bond within the retailers' community. "All store owners meet once a month and come up with ways in which we can work together, be it for a Christmas fair, for common promotions et cetera," she adds.
Her thoughts are echoed by close friends and fellow founders of The Yoga Shala- Zainab and Gayatri. The Yoga Shala opened in Mehar Chand in February this year. The team wants to focus on bringing skilled and accredited practitioners in the field of yoga from around the world. It has already started the trend with a recently-concluded workshop with acclaimed practitioner Kino McGregor. In the coming months, there will also be classes and workshops in other styles of yoga, Pilates, nutrition and skin care. Gayatri is also starting a line of holistic nutrition and skincare products under the name of YoGeeks,which will be available at The Yoga Shala. "It is a great community for The Yoga Shala to be a part of as there are already three other stores including Altitude, Nourish Organics and Kirana that have a similar philosophy and promote the organic way of life. Instead of being in competition with each other we are looking to add and complement one another," say Gayatri and Zainab for whom Mehar Chand was the first choice.
The market today has a feel of a European boutique market. That serves as an attraction for various restaurateurs. Ardahun Pinky Passah, owner of the Himalayan eatery, Yeti, started a multi-cuisine restaurant, Cafe 88, here recently. Done up in soothing white, the eatery presents quite a spread ranging from Oriental to Mediterranean. "We wanted to serve what is comfort food for us to the clientele here," says Passah. A must-have at Cafe 88 is the sumptuous High Tea Platter that comes with warm scones, clotted cream and bite-sized sandwiches, quiches and much more.
"The area is clean, upscale residential colonies are close by to provide a ready supply of customers. That's why Mehar Chand market is doing so well," says Ashok Sukhija, president, Mehar Chand Market Association. With people scrambling to set up shop here, the rentals are at an all-time high at the moment. "After 2005, brands started pouring in. Owners of empty plots or of shops with just the ground floor, started adding to the construction. After that rentals increased about 100 per cent. In 2010, the same 400 sq ft shop was rented out for Rs 1 lakh. Today it's much more," says Sharma. It is still a far cry from the rentals at Khan Market, which are pegged at Rs 1,500 per sq ft. However, the last two years have also seen an erratic trend in the market with stores opening and closing in a matter of months. "Two years ago, people did something very astonishing. They simply didn't negotiate on the rents. The owners of the space asked for exorbitant amounts and they simply coughed it up, without bargaining. That led to a huge escalation, and in the long run, spelt the death knell for a couple of stores," says Chadha. Though Mehar Chand only gets 10 per cent of the footfalls at Khan Market, people have high hopes for it. "The market is just going to get bigger and better with time," says Pauro.