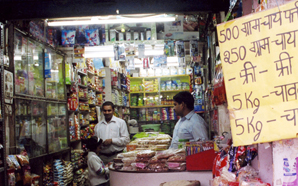 The country's top modern retailers are taking a cue from traditional trade rivals, as steep costs as well as growing consumer preferences compel them to recast business models.
A presentation by the Boston Consulting Group's senior partner and director Abheek Singhi on the first day of the India Retail Forum, currently on in the city, said changing lifestyles, as well as increasing transportation and urban costs, are compelling modern retailers to aggressively consider small-format stores as opposed to large-format ones, the trend earlier.
In his presentation, Singhi said the kirana-store model works well in a complex market like India, where small format stores can easily penetrate the length and breadth. "There are 12 million kirana stores in India translating into 10 stores per 1,000 Indians. The penetration of these stores is enormous in that sense. In many respects, it is a motivating factor for big-retail's small store plans," he said. Coming at a time when big retail is grappling with steep rental and location costs, it makes ample sense, Singhi added. Kishore Biyani's Future Group, for instance, will open 4,000 stores in various formats - KB's Fair Price, Nilgiris, Easy Day and other formats - by 2021. The Tata's Group Trent Hypermarket, on the other hand, will set up 400 neighbourhood stores under the brand Star Daily, and Reliance Retail will open one Reliance Fresh store a week, according to recent statements by these firms. Even foreign retailers such as Walmart are jumping onto the bandwagon, with plans to invest in smaller format stores, representing a combination of its Walmart Market and Walmat Express Units.
According to Rakesh Biyani, joint managing director at Future Retail, in cities, where people are racing against time, "neighbourhood stores are simply convenient and easy". Future Group's convenience stores are 1,500-1,800 sq feet in size and keep 600-1,500 stock keeping units. These typically have a smaller assortment and smaller pack sizes.
Some analysts, however, believe convenience stores could be challenged by digital grocery in the future. A recent report by search and technology major Google and consultancy firm Bain & Company says online sales from consumer goods categories such as male grooming, beauty, food & beverages and infant care will together constitute $5 billion (or Rs 30,000 crore) by 2020. Of these categories food & beverages, male grooming, skin care, hair care and infant care would be the key contributors to this growth.