Kwality to reach 40,000 retail touchpoints & enter rural geographies
By Chanda Kumar | July 27, 2018
With the aim to reach INR 100 crore turnover by 2020, Kwality is aggressively focusing on marketing initiatives, extending reach to 40,000 retail touchpoints and also introducing new healthy snacking range shortly.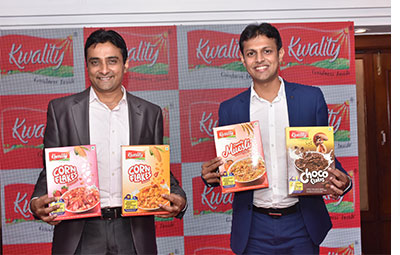 Kwality, one of the leading manufacturers of masalas and instant mixes from the house of Pagariya Food Product Pvt. Ltd. today announced the launch of its wide range of healthy and delicious breakfast cereals. In addition to the new cereals, Kwality has also repackaged their entire range of breakfast cereals.

Today the size of Breakfast Cereals in India is 2500 cr and growing at a CAGR of 27-28%. By 2020 the turnover will touch 4000 cr. Kwality is aiming to grow by over 100%+ in next few years and become one of the top 5 Breakfast cereal company in India. Speaking at the launch, Naresh Pagariya, Managing Director, Pagariya Food Pvt. Ltd said, "We believe that the consumer's need for breakfast choices in India is growing exponentially and our range of products are uniquely placed to satisfy this need. With a market share of 5-7% in this category, we are working towards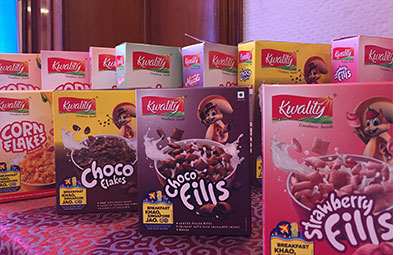 bringing food products keeping health and convenience in mind. We are looking at reaching 40,000 retail touchpoints and see 60% growth in our revenues this year."

For over 20 years Pagariya Foods has been present in Indian kitchens through Masalas, Instant Mixes, and a wide range of Breakfast Cereals. The new cereals are available at all big supermarkets such as Big Bazaar, D-Mart, Metro, More, Spar and various other brick and mortar stores. Additionally, they are also available at leading online stores like Amazon, BigBasket and Flipkart.

Unveiling its new 360 degree marketing campaign Kwality foods is taking initiative of inculcating the habit of having breakfast through launch of exciting cereals and their campaign.

The company is aggressively focusing its operational and marketing strategies to capture new markets across India and reach INR 100 crore mark by 2020 from its current revenue INR 40 crore in FY17-18. By introducing smaller packs of Rs. 5 and Rs. 10, the company is ensuring that people in tier 2, tier 3 and rural Indian cities also can now have nutritious and tasty breakfast cereals. Company today has 400+ Distributors and covers 25000+ retail outlets. In the past couple of years, the company has gained momentum in terms of new products; rejuvenating the marketing and sales team and focusing on volume growth.

The Bangalore-based company, which gets 10-12% revenues from exports is spreading their wings globally, with exports to over 20 countries like U.A.E, Qatar, USA, Fiji Island, Maldives, Seychelles, Nepal, Sri Lanka, Tanzania, etc.