Launches to perk up Biyani's FMCG play
Vjmedia Works | June 04, 2015
Steady stream of these in both food and non-food categories over the coming months, with multiple JVs also on the anvil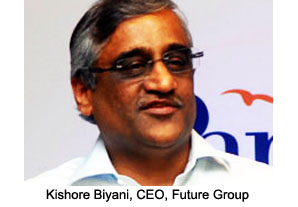 Future Group chief executive Kishore Biyani, 53, eyeing a turnover of Rs 20,000 crore by 2021 in consumer goods, has a slew of launches ready in both food and non-food segments to achieve this.
The idea, he says, is to get into as many categories as possible to tap the consumption needs of people. From his food park in Tumakuru (earlier Tumkur), near Bengaluru, his Future Consumer Enterprises plans to launch 100 varieties of flour and new brand of oats, sauces and dips in the coming months.
"Oats would be the biggest launch for us. Our plant in the food park has the capacity to take care of the entire country's consumption," Biyani said in an interaction withBusiness Standard.
The group is also in the final leg of launching frozen foods. The plan is to support these in-house launches and acquisitions with joint ventures (JVs). The latter will be only with international brands. "What we are tying up for is the product expertise and technology. We keep that in mind when considering JVs," he says.
For instance, in beverages, the group has a long-term agreement to manufacture, market and sell the US-based Sunkist range of fruit juices and sparkling (carbonated) drinks in India. The group's entry into the juices category last year was on the back of this tie-up.
ADVERTISING
On the anvil now are JVs in ice-creams, chocolates, biscuits and so on. Future has eight in-house brands, including Tasty Treat, Premium Harvest and Fresh & Pure, operating in the processed foods, branded commodities and dairy segments, respectively.
Also in Biyani's portfolio are brands like Karmiq, So Fresh and Veg Affair. Each of these has its own range. Veg Affair will be ready-to-eat frozen vegetables, including peas and carrots.
Karmiq is for oils, such as canola, rice bran and olive oil, besides dry fruits. So Fresh will be bread, fruits and vegetables.
At the moment, Biyani says 25 per cent of his food sales come from own brands; he wants to raise it to 50 per cent by 2018. "While we are not taking our eyes off non-food, the bulk of the launches will be in food," he says on the number of launches in the two categories.
While food will be significant, Biyani's ambitious food parks, intended to drive his interests in the category, have hit a block.
Apart from the one in Tumakuru, inaugurated last year, the group has not received the necessary approvals to set up a second food park in West Bengal. And, the third one, in Madhya Pradesh, has being shifted to Nagpur in Maharashtra.
The food parks were intended to plug the manufacturing gap in Future Group.
The Karnataka food park, for instance, will have a flour mill, rice mill, pasta plant, spice plant, paste factory and a bakery unit. The 110-acre park will cost Biyani Rs 1,000 crore on completion. He has already invested Rs 200 crore in it.
Biyani is also looking at new launches in non-food consumer products.
"We are now looking at personal care. We just launched a body wash at Rs 59, cheaper than a bar of soap in the market place. We are also looking at shampoos ," he said. Future recently acquired Grasim's personal hygiene brands.
IN THE PIPELINE
100 varieties of flour, new brand of oats, sauces & dips
JVs in ice-creams, chocolates, biscuits
Non-food products like soaps, shampoos