Local firms will do better in long term: Sachin Bansal
May 23, 2014
Flipkart has announced acquisition of fashion retailer Myntra in one of the largest deals in the Indian e-commerce space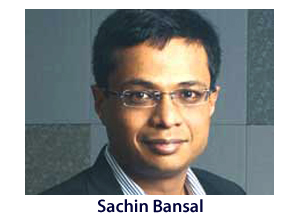 Online retailer Flipkart, which has announced acquisition of fashion retailer Myntra in one of the largest deals in the Indian e-commerce space, says it will continue to look at inorganic options to strengthen and expand. Chief executive and co-founder Sachin Bansal spoke to Itika Sharma Punit about the details and triggers behind the much-speculated deal, the future course and like issues. Edited excerpts:
Speculation about this acquisition has been around for several months. How long have you been working on it?
We have been talking to each other for a while. We started with exploring all kinds of options to see how we can work with each other. Among others, we explored options where we come together to work without any strategic partnership; also, we looked at making some investment. But as we talked more, we realised that acquisition would be the best option because we realise the way Myntra is building its business, it will go on to become big in the fashion space.

Competition from Amazon is being looked at as one reason that triggered the acquisition.
I think there will be all kinds of players in the market. We are not focusing on the competition when we make our day-to-day decisions. All we are looking at is our customers and the data we get from them. This deal is also triggered somewhere from that because our customers want a differentiated fashion shopping experience and we took a decision based on that feedback. Also, I think we will find domestic players doing better in this space as we go forward. In the short term, you might see foreign players investing money like crazy but I think in the long term, it will be domestic players that will succeed.
Why have you decided to keep Myntra and Flipkart as separate entities?
Myntra is a very big brand in itself and its traffic is one of the top among e-commerce websites in the country. A lot of investment has gone into building that traffic. We want to maintain that and benefit from it. Myntra's brand stands for something unique and differential in consumers' mind and we want to leverage from that. Similarly, on the Flipkart side, the consumer base is different and people go to Flipkart for a different reason. So, by trying to combine the two companies we would lose value. Keeping them independent allows us to benefit more.
Would Flipkart look at more acquisitions to strengthen its presence in other segments?
We continue to evaluate acquisition opportunities in all kinds of areas, whether it is categories of e-commerce or back-end capabilities related to technologies or supply chain and automation, etc. The big factor for us is that deals have to be created and that filters out a lot of companies. There is nothing big in the pipeline as of now but we hope to find more options.
Do you think more such acquisitions are the way forward in the e-commerce sector?
I think this kind of transaction is pretty unique, it does not happen too often. Most of the previous transactions in the e-commerce space have been distress sales. This is the first time two leaders have come together to work together. I will be surprised if this kind of a thing happens, going forward.
With this acquisition in place, what would be the timeline now for Flipkart to become profitable?
Profitability continues to be a second priority for us, after growth. The acquisition of Myntra is also not for profitability; it is for gaining more market share and becoming more dominant in this market place.

What will be Myntra's co-founder Mukesh Bansal's role at Flipkart?
Mukesh continues to be a large stakeholder in the growth of Flipkart and as part of the deal, he will be joining the Flipkart board, which is above the executive team. He will be a part of the overall strategy of Flipkart. Also, fashion will become a huge part of Flipkart, so his role will be even more important. We are very excited to learn from Mukesh because his experience is much more than ours.
The enforcement directorate is probing Flipkart for alleged breach of the Foreign Exchange Management Act. What is the update on that and does it affect this acquisition in any way?
We continue to work with the authorities whenever we are approached, whether it is tax authorities or any other. I cannot comment on when it will close or share any other specifics on that. It has no impact on this deal.