Lulu Group to open Lulu Mall in Lucknow
By Rita G Chauhan | March 06, 2018
International retail player LuLu Group enters UP and AP with various investment plans. The group will use this investment to open Lulu Mall in Lucknow.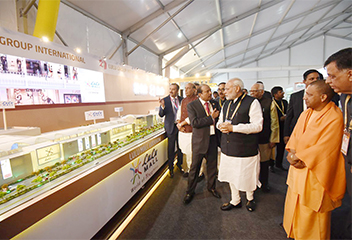 Dubai-based Lulu Group International announced the launch of its Rs. 2000 cr. Lulu Mall in Lucknow. The plan has been unveiled during the UP Investors Summit at Lucknow. On the occasion, Chairman & Managing Director Yusuffali MA said, "We are making North India's largest shopping mall with more than 20 lakh sq. ft. built up area, which will generate an employment of more than 5000." He elaborated further that the mall will feature more than 200 international and national brands all along with 11 screen multiplex, 2500-seater food court and more than 20 fine dining restaurants. The company has assigned Rs. 14,000 crores initially for this plan.
Yusuffali, an Indian business tycoon believes that UP has huge potential in different sectors and his company is exploring investment opportunities in retail, hospitality & food processing sector in Kanpur & Noida respectively. The model of the future Lulu Mall was unveiled in the presence of PM Narendra Modi at the inaugural function of UP Investors Summit 2018 in Lucknow.
The group has also launched another project in the state of Andhra Pradesh. Through a PPP route the group would set up 20 lakh sq. feet shopping mall and a luxury hotel on the beach road in the Harbour Park area of Visakhapatnam.