Mall space in Chennai to see momentum after LS elections
By Adam Devey Smith | Vjmedia Works | March 26, 2014
As of now, two shopping malls with a total cumulative area of 1.1 million sft are under construction and are expected to become operational by June 2014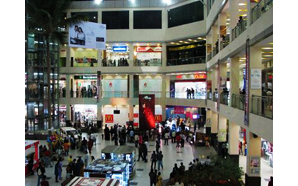 The mall space in Chennai is expected to see an improvement in momentum after the Parliament elections as there might be some policy changes on the anvil for the retailers, according to commercial real estate services firm Cushman & Wakefield.

The vacancy levels are expected to go upwards in the first half of 2014, due to external factors like current economic climate and impending general elections, coupled with the new supply infusion of about 1.1 million sft, it added. These external factors have led retailers to adopt a wait-and-watch approach and expand selectively in major locations this year.

"However, post the changes in the political environment, the situation is expected to improve as some new policy changes might be on the anvil for retailers. Meanwhile, it is expected that there will be an increase in the number of international retailers entering Chennai mainly because of the availability of more options," Cushman & Wakefield said.

As of now, two shopping malls with a total cumulative area of 1.1 million sft are under construction and are expected to become operational by June 2014. Once operational, these malls will cater to the peripheral locations of Rajiv Gandhi Salai and Vandalur. According to Cushman & Wakefield, Chennai has a total mall inventory of 4.9 million sft comprising 12 shopping malls, out of which 93.5 per cent is currently occupied.

The demand is high from apparels, footwear and accessories retailers for prominent malls in central locations. Out of the 12, three shopping malls were opened in 2013. While both the malls in Velachery opened with an occupancy ratio of 90-95 per cent, the occupancy ratio for the mall in another part of the city was pegged slightly lower at about 80-85 per cent.

Factors like construction quality, mall management and design aspects are the prime drivers which determine occupancy ratios and attract retailers, thus some malls in Chennai have performed better than the others, the company said. Location and residential catchments in the vicinity of the mall are also some of the other important aspects that retailers consider, it added.