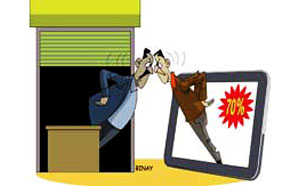 The online versus offline war appears to have reached tipping point, with malls telling brands to show their loyalties upfront in the pricing and product range. This has come at a time retail chains have been seeing reduced footfalls and e-commerce has been growing at a rate higher than 30 per cent (compounded annually) since 2009.
While domain experts refer to the demands of the brick-and-mortar players as "muscle flexing" and "restrictive trade", malls argue they can't simply be treated as trial rooms, with actual transactions spilling over to the digital platform at lower prices.
Responding to this, brands like Nike, Adidas, and Tommy Hilfiger are learnt to have informally indicated they would not sell their latest collections online. These brands did not respond to a questionnaire sent by Business Standard.
RETAILERS VS RETAILERS
Malls talking to apparel and shoe

brands for uniform pricing online and

offline
Brands told to showcase latest product

range in brick-and-mortar stores

before going online
Retail chains argue stores are being

used by shoppers to check price and

size, before buying online at cheaper

rates
Experts call the malls' demand

"restrictive trade practice" and "anti-
competition"
The online vs offline war had begun

recently, with electronics brands like

Lenovo and Canon advising buyers not

to deal with e-commerce players
United Colors of Benetton (UCB) has taken a more decisive call. "For a brand like UCB, e-commerce is a big reality for the future. But brick-and-mortar is our key driver and we strictly adhere to a uniform discounting policy. We have abstained from cutting prices online," says Sanjeev Mohanty, managing director, Benetton India Business Unit.
What had started with electronic companies, including Lenovo and Canon, putting up notices on their websites asking shoppers not to buy from certain e-commerce companies that were under-cutting prices, is now a face-off between digital and physical in the fashion and apparel space as well.
Explaining why there should be a uniform discounting policy for online and offline retail and why the latest collection must be exclusive to brick-and-mortar stores, a leading Delhi-based mall owner said: "E-commerce can grow but not at the expense of brick-and-mortar stores. People cannot walk into stores, try products, check sizes and prices and buy online at cheaper rates."
Arjun Sharma, director at Select City Walk, Delhi, is more direct. "In the next round of our leasing, the brands will have to give us in writing they will follow a uniform discounting policy for online and offline channels." Also, brick-and-mortar stores should get preference in terms of product range, he says. "It's a choice that you have to make - whether you belong to organised retail or not."
Rajiv Malla, center director, Phoenix Market City, Pune, echoes the sentiment. "We have to make sure brands don't undercut prices online, the brick-and-mortar outlets need to protect themselves." He adds: "We expect brands to have a clear non-conflicting policy for online and offline channels."
Among others expected to go aggressive on the same path later this year are Pacific Mall in Delhi and DLF Mall of India in Noida. "This is something we were not following six months ago, but it's an important change," said Abhishek Bansal, executive director, Pacific Mall, Delhi.
As for players like South City Mall in Kolkata, there's time before they demand uniform pricing from brands.
"We try to ensure there is a price parity online and offline, but we are waiting for markets to mature, so that more brands can follow this policy and we can make it part of our leasing terms," says Manmohan Bagree, vice-president, South City Projects, Kolkata.
Experts argue that this can raise issues of restrictive trade practices, as there is a fundamental ground to demonstrate that this policy deters growth of e-commerce. "But that (to term it restrictive trade practice) will be dependent on the specific stand the brands take, covenants and language of the contract," according to Pavan Duggal, Supreme Court advocate and a cyber law expert.
Technopak Chairman & Managing Director Arvind Singhal calls the move by offline majors an "anti-competition mentality". It's an attempt to flow against the tide of e-commerce expansion, "but I don't think the muscle flexing will work", Singhal says.
There are surprises, though. Leading online fashion retailer Myntra claims it supports uniform discounting policy, as it sources directly from brands. "But marketplace portals that source from distributors and local suppliers might be affected," says Mukesh Bansal, CEO & co-founder, Myntra. E-commerce major Flipkart says it "remains committed to providing widest collection of brands".
Of the country's total retail market size of $500 billion, the e-commerce industry accounts for $3.1 billion (excluding travel). The e-commerce industry is expected to touch $22 billion in five years, according to a research firm CLSA.