Mannequin Special: Dressed to sell
By Dipanjan Mukherjee | Vjmedia Works | July 24, 2013
In order to understand all aspects of the use of mannequins in retail, we spoke to different stake-holders to get their views on their side of the mannequin story. Read on to hear from the trend setters, the influencers and the practitioners about their experience with mannequins. But first, let's look at the growth and evolution of mannequins down the ages.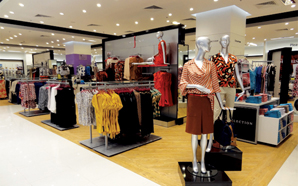 Shop mannequins were born out of dress forms used by fashion houses for dress making in the 15th century, when miniature mannequins were used to demonstrate fashion dresses to ustomers. Full-scale, wickerwork mannequins were manufactured in paris from 1835 and used to display costumes' and other clothing items. With the advancement in the retail industry and customer eeds, came specialized mannequins made of diverse materials like wood, wax, wire, plaster, and ven fabric to showcase specific types of merchandise. the latest Global mannequin design trends are minimalist mannequins featured in leading high street brands fashion brands. the design here annequins feature statement red lips with a focus on just one eyelash clad eye or are completely aceless or just contoured facial features in textures and finishes like glossy ceramic, cracked, metal etc. Sustainable design in mannequin development of new materials and manufacturing processes layed catalyst to innovations that in the creation of unique mannequin styles and types for ifferent display needs.
mannequin design trends saw the first fashion mannequins made of abstract looking papier-mâché in France in the mid-19th century, leading to the development of realistic wax mannequins and later the modern day durable composites like fibre glass and molded plastic that nabled fantastic finishes and shapes. Design trends and technology helped make possible dramatic effects with in-lit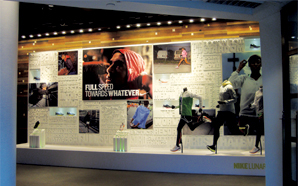 transparent mannequins, used by brands like la Senza, and action mannequins that ran on a track in a nike town store. Bloomingdale's created theater in the window, like in their famous 2012 holiday windows with animated props and mannequins. With many materials, finishes and forms possible, it's left to the designers' imagination to create a function, action or fashion story toinfluence brand experience and sale. materials and manufacturing has also gained popularity and acceptance with esigners, brands and retailers.
the indian retail market has quite drastically transformed in the last few years owing to the entrance of nternational brands and this has impacted the quality of design and display in the store environment.
VmrD did some window shopping in popular shopping destinations to capture the diverse trends in mannequin types used in new and established national and international brands. the types and trends seen were quite diverse and visibly dependent on the type of merchandise, quality of rand presentation, attention to detail and willingness to invest in brand experience. next VmrD caught up with the stake holders to get their views and opinions on their side of the mannequin story. read on to hear from the trend setter, the influencers and the practitioners about their successes, challenges and experience in being a contributing player in creating the shopping environment in the indian marketplace