Masaba Gupta launches maiden fashion venture in Kolkata
By VJ Media Bureau | Vjmedia Works | February 21, 2014
Fashion label Masaba has entered Eastern India with the first store at the Quest Mall in Kolkata.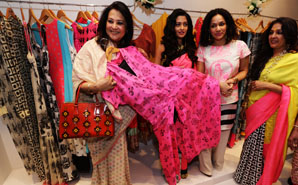 The fashion map of'The City of Joy' got a new landmark recently with the launch of designer Masaba Gupta's maiden fashion venture'Masaba' at the Quest Mall. Spread over 606 sq.ft. of area, the store has been designed following the common theme of white interiors with very simple, sober yet classy backdrops so that the colourful designs and prints of Masaba pop out and make their presence. The store has been launched in the presence of Masaba's celebrated Actor-mother Neena Gupta and got inaugurated by actor Riya Sen in the presence of her mother Moonmoon Sen who also joined the celebrations. With this launch the label has got five stores running, among which three flagship stores are in Mumbai and one in Delhi.
"I am very excited to be opening a store in Kolkata. It is the city that has inspired me at various levels through the years and I look forward to retailing from here. The colours, the vibrancy and the impeccably dressed women will enjoy our styles now, exclusively at Quest Mall. This is the first time that any of my store is located in a shopping mall and the mall culture is essentially different as it gives a great opportunity to any designer to showcase the collection to a much larger audience," said Masaba Gupta.
While sharing the objective behind the launch of the brand Masaba in Eastern India, Masaba Gupta further shares, "The store offers a collection more towards a mix of high prêt-e-porter outfits, diffusion and semi-festive line of clothing with signature prints heavy on patchwork and colour blockings especially designed for my audience in Kolkata. Kolkata is a market where women want to wear something outlandish which touches their sensibility . The aim is to provide affordable clothing to my customers and thus the collection starts from Rs 2,000 and goes up to Rs 40,000."
The collection also speaks about Masaba's inspiration which has been named as "Postcards from Benaras" and which are essentially an ode to the widows of Benaras. A few others are inspired by the Masai Tribes. The special "Durga Eyes Print" is inspired from the Goddess Herself designed on signature silhouettes and saris. Camera prints, Polka dots and rose prints that are synonymous with the brand would also be present at the store. The basic collection will have shirts, shirt dresses, tunics and jackets, everything that makes a loud fashion statement in the city. The prominent use of black and white in the couture also reveals the designer's personal liking for these colours. Masaba shares in this regard, "I love black and white and my logo is also in black."
Speaking at the occasion, Mrs. Santosh Choraria, Masaba's Kolkata Franchisee Owner said, "I have been following Masaba Gupta ever since she came on to the fashion scene and I am greatly inspired by the fresh thoughts and designs with vibrant colours brought in by her, which are great to look at and wear. I have been wearing Masaba Gupta creations for a while now and have been gifting their creations to my friends and family, who have all become great fans of Masaba. I had met Masaba personally one and half years ago and when she recently offered the Franchise at Kolkata, I could not, but jump at the idea. This is our first venture into retailing and we have further plans to take more franchisee of different brands and want to open 6-7 news stores in different parts of Kolkata very soon."