Max launches on Amazon Fashion India
By Smita Sinha | July 31, 2019
The Max store on Amazon Fashion will launch with the latest selection of seasonal fashion and trends from their Autumn '19 collection.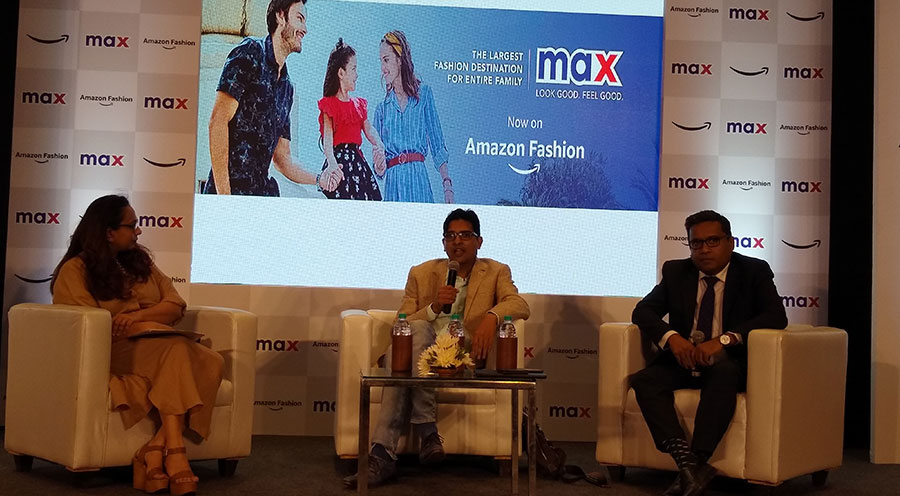 With an aim to become a billion dollar fashion brand in India, Max Fashion, the leading fashion brand from the Landmark Group, now launches on Amazon Fashion India. Max Fashion will be available at Amazon Fashion India, starting 1st August 2019.
The Max store on Amazon Fashion will launch with the latest selection of seasonal fashion and trends from their Autumn '19 collection.
The launch of Max Fashion on Amazon Fashion in India is aimed at improving consumer reach and base and ensuring that highly stylised fashion at affordable prices is made available across 100% pin codes, thereby transforming how India shops for fashion, according to the company. The online store will be launched with full-feature apparel selections for men and women - across tops, t-shirts, dresses, jeans, trousers, jackets, and also kid's apparel.
Addressing the media at a press brief held at Taj Vivanta, Bangalore, Shital Mehta, CEO, Max Fashion India said, "We want to be India's first billion dollar fashion brand in next three years. We want to become a brand that is available anytime anywhere. Couple of years back we used to open a store every month, then we started opening a store every fortnight. Last year we opened a store every week. In the current financial year we are opening one store every 5 days. Currently we have nearly 300 stores. We should be able to reach 500 stores in next couple of years. But we realised that 500 stores is not enough. We wanted to make fashion accessible to maximum customers across India. What Amazon brings to the table is reach across 100% pin codes, unmatched customer experience and reliability, which provides us a great opportunity to serve our customers. We are very excited about our partnership with Amazon Fashion, which will help us make fashion more accessible to India."
Mayank Shivam, Director - Category Management, Amazon Fashion India said, "It will now be accessible across 100% pin codes in India through Amazon making fashion accessible for everyone. Max Fashion's presence on Amazon reiterates the brand's trust in us to deliver an unparalleled shopping experience across the country."
"Max is relevant to everyone. It cut across tier 1, 2, 3 cities in India and that is how we look at fashion at Amazon as well. Even culturally, both the brands are similar, whether it is focus on customer experience including onsite delivery or returns, bringing our trendy products at affordable prices. We are also looking at long term potential for fashion in India," he further added talking about synergies between the two brands.
For more updates, subscribe to retail4growth newsletter - Click here
Similar News
The retail chain has revamped its display and communications adding digital touchpoints, cluster mannequins, inventory capacity and tech interfaces and will soon take the experience to 10+ stores across the country.