More good news, surprises coming for FDI in multi-brand retail: Sharma
By Christopher Brace | Vjmedia Works | December 23, 2013
Commerce Minister Anand Sharma says govt nod to Amritsar-Kolkata industrial corridor by January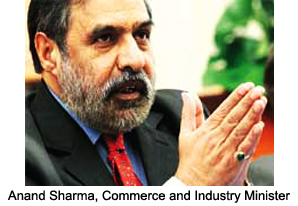 Commerce and Industry Minister Anand Sharma on Saturday said the government would approve the proposed Amritsar-Delhi-Kolkata industrial corridor (ADKIC) by January. "I hope to have the Cabinet approval by the first week of January. It is work in progress," Sharma said on the sidelines of the Federation of Indian Chambers of Commerce and Industry's annual general meeting here.
The ADKIC project, which would be supported by the Japanese government, envisages budgetary support of Rs 5,749 crore. It will be aligned with the Eastern Dedicated Freight Corridor.
Earlier, the project was scheduled to have been taken up by the Cabinet in October, after being finalised by the Prime Minister's Office in September.
The project will cover the states of Punjab, Haryana, Uttar Pradesh, Uttarakhand, Bihar, Jharkhand and West Bengal.
It will cover cities such as Amritsar, Jalandhar, Ludhiana, Ambala, Saharanpur, Delhi, Roorkee, Moradabad, Bareilly, Aligarh, Kanpur, Lucknow, Allahabad, Varanasi, Patna, Hazaribagh, Dhanbad, Asansol, Durgapur and Kolkata.
"Before the end of the financial year, there will be more announcements (on foreign direct investment in the multi-brand retail sector)…More good news, surprises coming," Sharma said.
Recently, Tesco, present here through its partnership with Tata group's Trent, said it would invest $110 million (Rs 680 crore) in India for front-end multi-brand retail stores.
While addressing industry leaders here, Sharma said, "I can emphatically say in India, there was never a policy paralysis. Major decisions were made during the difficult period since the economic crisis. There have been downturns, there have been contractions…Look where India has been. Yes, we are not growing at nine per cent-plus; we were dragged down. We cannot be insulated from what happened in the world."
He said the country needed electoral, as well as judicial reforms, adding the poor should have access to the judiciary.