Myntra sees fivefold jump in revenue during sale
September 29, 2016
The sale, to be held on October 2-6, expected to have 250,000 new customers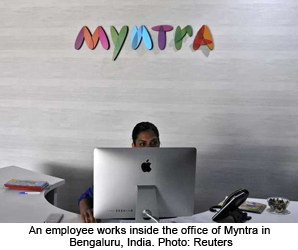 India's largest online fashion retailer Myntra is expecting a fivefold jump in daily sales during its upcoming festive season sale for which it is piggybacking on parent Flipkart's Big Billion Days initiative.

The sale which will be held between October 2-6 will look to woo customers with discounts as high as 70 per cent being offered on products. Moreover, Myntra expects a quarter of a million new customers to shop on its platform during the five day period, according to a PTI report.
BIG BILLION DAYS SALE
Myntra expects 5X growth in sales during Big Billion Days
Around 2-2.5 million new customers will shop on the platform
Estimated 200,000 deliveries will take place per day during the sale
Discounts of up to 70% across all products on Myntra
Exclusive partnerships with leading brands such as Forever 21, Marks & Spencer and French Connection for the festive sale
"We have put in place several innovative features to enhance customer experience and have augmented our logistical capabilities to manage approximately two lakh deliveries per day," said Ananth Narayanan, CEO of Myntra, said in a statement.

To offer unique deals to customers, Myntra has entered into exclusive partnerships with leading brands such as Forever 21, Marks & Spencers and French Connection for the five day festive sale. The company will also push its own brands such as Roadster, HRX and Dressberry which it sells exclusively on its platform.

Rival Amazon is opening its sale a day ahead of Flipkart and Snapdeal, as it looks woo customers with bigger discounts, better deals and quick deliveries through Prime. For Flipkart, fashion is one among the only categories where it isn't being hounded by Amazon, making Myntra's sale all the more important.

Jabong, a competing fashion e-commerce player, which Myntra recently acquired for $70 million will not be a part of this sale, owing to lack of readiness for the big bump in sales that's usually seen during Big Billion Days. Preparations for sales usually begin months prior to the sale as IT and Logistics have to be ramped up poroptionally.

Myntra, which was acquired by Flipkart in 2014, continues to host its own marquee sale - The End of Season Sale, but since last year has begun participating in parent Flipkart's Big Billion Days sales too. However, the company says it has no plans to shut its End of Season Sale, which will continue to be its flagship event.

While so far in 2016, online sales have been subdued due to a slowdown in discounts being offered from e-commerce players, analysts expect sales during the festive season to prop overall industry sales to levels similar to last year. According to RedSeer Consulting, e-commerce sales in India could jump to $1.5-1.7 billion in October on hand of festive sales.

Despite a strong festive season however, overall sales in India's e-commerce market is expected to be similar to last year's levels. While this is said to be a temporary stalling of the market, it's bad news for homegrown players Flipkart and Snapdeal as they've shed a big chunk of their market share to US-based retailer Amazon.