Myntra to help large brands drive offline sales
December 30, 2015
Indian retailers have already begun to look at merging the offline and online experiences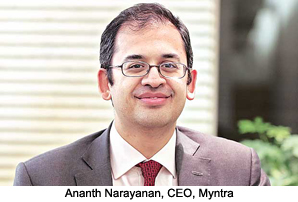 Myntra, India's largest online fashion retailer, will pilot a programme to help large brands to drive the latter's offline sales through a multi-channel approach and offer an integrated shopping experience.
"We are going to partner with some of our major brands to do omni-channels. Maybe we will leverage their inventory in the stores or the consumer experience that we have in the stores where we can direct the traffic," Myntra's chief executive Ananth Narayanan told Business Standard. Myntra is in talks with several brands for the pilot to be launched in the next financial year, but did not reveal the names.
With the move, Myntra, which is in the run to improve profitability by the end of 2016, tries to leverage its smartphone app user base of 7.6 million to drive sales for large brands in the country. Currently, international brands contribute five per cent to Myntra's revenues while private labels' share is 20 per cent. The company claims a high repeat customer rate at 80-85 per cent. Over an 18-month period, the firm plans to double the share of international brands and increase the own brand share to 30 per cent of its total sales, which will help it generate higher margins.
"Omni-channel is a good idea. I think people should do more omni-channel because that will educate the consumer on e-commerce. Whenever I have conversations with the brands, I suggest them to do omni-channels," the former McKinsey India director, who joined Myntra in October, added.
An omni-channel approach involves online retailers opening offline experience centres or vice-versa. Customers can come, touch and test the products that they intend to buy at these experience centres, where they would be assisted in the selection process of a product and to get the product delivered to their preferred addresses.
India is at the cusp of an e-commerce revolution mainly driven by online retailers such as Myntra, Flipkart, Snapdeal and Amazon. However, unlike the US or China, the share of online retailing is in single digits in India. Hence, there is a huge potential for growth.
Indian retailers have already begun to look at merging the offline and online experiences in retailing for their consumers. Madura Fashion & Lifestyle, part of Aditya Birla Nuvo, launched a digitally integrated store in Bengaluru. Snapdeal's omni-channel platform named Janus lets customers discover, purchase or even return products to a physical store. Reliance is building a fashion e-commerce portal out of Bengaluru.
Flipkart, which became the parent company of Myntra after it acquired the latter in early 2014, had recently launched experience centres for mobile phones across 19 cities in India to help those with limited knowledge and expertise in online shopping. In July, it launched 20 pick-up centres for its customers in 10 cities . These'experience zones' will allow customers to walk into a centre at their own convenience and collect products ordered online.
Players such as Amazon and eBay, both of whom have presence in India, have physical stores in countries such as the US that cater to various user interests.
Meanwhile, Myntra said on Tuesday that the company would have its largest fashion season sales called 'End of Reason Sales' on January 2 and 3. Around 2,000 Indian and international brands including Nike, adidas, Reebok, FILA, Vans, Tommy Hilfiger, Mango, Marks & Spencer, Casio and Titan, are expected to participate in the sale. The company expects up to 10 times growth in daily revenue during the two-day sale.
ROAD AHEAD
Myntra is in talks with several brands for a pilot programme to be launched in the next financial year
It is trying to leverage smartphone app user base of 7.6 mn to drive sales for large brands
Within 18 months, it plans to double the share of international brands and increase the own brand share to 30% of its total sales
Another plan is an omni-channel approach, involving online retailers opening offline experience centres or vice-versa