Myntra's app-only dream is dead; to relaunch desktop website on June 1
May 04, 2016
In May 2015 Myntra had shut off its mobile and desktop websites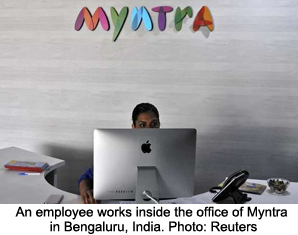 India's largest fashion portal, Myntra, will re-launch its desktop website on June 1, officially ending its plan of turning into an app-only marketplace. The move comes after a top-level management change, including the exits of Myntra founder Mukesh Bansal and Chief Product Officer Punit Soni, who were driving the app-only strategy at parent Flipkart.
Myntra, which re-launched its mobile website in February, was facing immense pressure from its users to bring back its web presence. The Mint reported on its website that the company said it expected 15-20 per cent of its sales to come from the web, highlighting the demand for being able to access the marketplace on the desktop.
"We found that while a majority of the growth is driven by mobile, the volume of users on desktop hasn't decreased. We've launched a number of new categories such as home furnishing and (fine) jewellery where customers want to see products on a larger screen," said Ananth Narayanan, chief executive of Myntra, said.
Flipkart, which owns Myntra, used the platform as a way to test the waters for becoming an app-only marketplace, which had several upsides in terms of user retention and personalised targeting. In May 2015, when Myntra shut off its mobile and desktop websites, Sachin Bansal, the then chief executive of Flipkart, said it was only a matter of time before the parent marketplace followed suit.
The move was criticised by several analysts, competitors and users, yet Flipkart went ahead and shut down its own mobile web presence, citing a sub-par experience when compared to the app. At the time of shutting down its web presence, Myntra had noted that it could see some attrition in the short term, but with the way things have turned out, it seems that growth never came.
"It is part of the Myntra culture to try bold things. We tried to do this last year because we thought we can offer consumers a much better experience on the mobile. While that is still true that the mobile experience is far superior to the web, we have recognised that some consumers still want the option to shop on the web we're humble enough to listen to our customers," he added.
Flipkart's star hire from Silicon Valley, Punit Soni, who had played an instrumental part in Motorola's revival under Google and was brought in to transition the two marketplaces to app-only entities, quit last month. His exit further gave wings to the idea that Flipkart was giving up on its mobile-only strategy.
While the true scale of damage isn't known, Flipkart's investors did seem to back the idea of an app-only marketplace. Naspers had estimated that the company had 50 million monthly active users, nearly three times that of its rivals Amazon and Snapdeal. The Flipkart app was also the first Indian mobile app to cross the 50 million installs mark on Google's Play Store.