New eBay report upbeat on small retailers
By VJ Media Bureau | Vjmedia Works | March 27, 2014
According to the report, e-commerce allows small retailers to become'micro-multinationals' -- small businesses with global customers.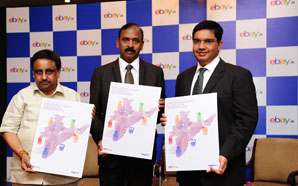 eBay India has presented the e-Commerce 3.0 report in Delhi to showcase the impact of internet-enabled trade in the country. The report provides insights on how Indian merchants trade nationally and internationally through online channels thereby contributing significantly to the Indian economy and contrasts it with the dynamics of traditional trade. The report explains the critical role of new technologies in revolutionizing the way Indians buy and sell. It also highlights eBay's commitment towards contributing to the evolution of e-commerce in India, thereby improving the lives of millions through Internet-enabled trade.
The COMMERCE 3.0 report was unveiled by Latif Nathani, Managing Director, eBay India along with Ajay Sahai, Director General, Federation of Indian Export Organizations and Praveen Khandelwal, National Secretary General, Confederation of All India Traders.
Speaking during the occasion, Latif Nathani, Managing Director, eBay India, said, "We, at eBay India are committed towards fostering the growth of Indian e-commerce by enabling merchants of all sizes to trade nationally and globally on a level playing field. Through this report, we aim to highlight the abundant opportunities offered by internet-enabled trade to millions of small & medium enterprises in the country. E-commerce allows small retailers to become "micromultinationals," small businesses with global customers."
The Key findings of the COMMERCE 3.0 report are:
Global Reach: eBay sellers tend to export and do so to an average of 31 international markets. Over 98% of eBay sellers export in contrast with only 10% of traditional firms. Internet-enabled trade overcome distances and makes the world "flatter" with fewer barriers to business. Distance matters around 65% less on eBay than for traditional trade. Today, United States, United Kingdom and Australia are India's main trading partners on eBay while Australia & Russia are experiencing the largest export growth from India.
Creating a level-playing field for small and large entrepreneurs: Internet-enabled trade helps to provide a level-playing field for small entrepreneurs. National and export sales are less dominated by the largest firms, and new firms have fairly high shares in overall sales. This is because entry barriers for Internet-enabled trade are lower, which makes it easier for newcomers to enter the market. Thus commerce platforms such as eBay have a pro-competitive effect. 32% of exporters on eBay India are newcomers.
Internet-based trade boosts National Trade: eCommerce support the domestic economy and bring remote sellers and buyers closer together. With domestic sellers on eBay India reaching out to an average of 19 states across the country, eBay boosts inter-state trade in India. Sellers located in Delhi and Maharashtra by far dominate as the largest net exporters within India. Kerala, Karnataka and Andhra Pradesh are the largest net consumers within India on the eBay platform. The five largest inter-state trade flows, which are from Maharashtra to Karnataka as well as to Tamil Nadu, followed by flows from Delhi to Karnataka, Maharashtra and Tamil Nadu.
eCommerce boosts National Welfare: Internet-enabled trade enhances competition and reduces prices because it offers businesses very low market entry barriers. Consumers in remote or rural areas benefit most in these markets, where competition is traditionally weaker because there are fewer suppliers. Lower prices also lead directly to welfare gains because a high level of competition, allowing buyers to compare prices from a variety of retailers, helps bring prices down. Another key source of welfare gains derived from Internet enabled-trade is access to products as eCommerce platforms reduce search costs and make products tradable that were otherwise not sold. This directly benefits sellers and consumers. The report also calculated the welfare gains that would prevail if all international trade were to become Internet-enabled. For India, the welfare gain was estimated to be 67%, the third highest among the leading countries of the world.
Breaking the Barriers to Internet-enabled trade: The full potential of internet-enabled trade has not yet been realised. Internet-enabled trade needs an enabling policy environment. It is currently subject to a wide range of restrictions and faces trade barriers, especially for crossborder transactions (exports & imports). The following focus areas will further boost internet-enabled trade in India:
o Better internet connectivity
o Encouragement of a "Less - Cash" economy