New Facets of Indian Fit-outs
By Satarupa Chakraborty | June 12, 2018
The materials and workmanship in retail fixtures are going through metamorphosis to emerge sleeker and sturdier without compromising on aesthetics. VM&RD checks out some of the key trends that are hot in the Indian fit-out industry today.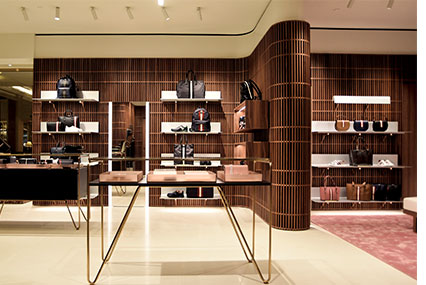 CUSTOM-MADE
With modularity becoming the winner of vast rollouts, customisations are taking centre stage. One of the biggest trends that India's retail fixture manufacturers will vouch to have seen it in last few years is the combined art of modularity and customisation. Santhosh Kumar, Head-Projects, House of Anita Dongre (AND, Global Desi, Grassroot and Anita Dongre), reflects the reality that most of the brands and retailers resonate, "Now, we face the competition to open more stores in shorter span of time, so we have reduced our fit-out period from 40-45 days to 20-27 days. Hence, we require complete modular set up fixtures."
To fortify this trend even more, other retail experience elements like lighting, digital signage and technology are aiding the capacity of retail fixtures. To amplify the modularity and productivity game, there have been new products like mix of wood and metal – UPVC and other wood-hydrocarbon-based material. Dharmesh Patel, Chief – Design Strategy Cell, Future Retail Limited, explained, "The biggest trend that I have seen in fixture design is that it has become more customised and product-driven, while earlier, it was utility based. Intelligent fixtures, integrated with other elements, are gaining momentum."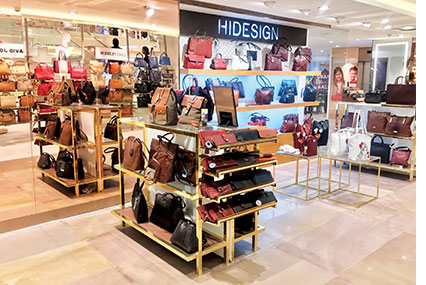 HIGH ON METAL
Once abundant in only food and grocery retail, metal, especially SS, MS and aluminium, has made in a big way in fixtures in all categories. A senior professional from Reliance Retail mentioned, "As we are becoming cost conscious and opting for more modular options, metal is fast becoming a preferred material. With metal, not much of civil work is required, making way for hassle-free installation. Also, fixtures are prone to abrasion due to hangers, and powder-coated SS resists it well."
While fixture manufactures were once upset with the fierce competition from China in SS fixtures, they are now focusing on increasing their metal capacity, especially after more duties have been levied on imports. The competition, therefore, remained almost unfazed even though steel price has gone up by 28% in the country. This year itself, amongst some of the major players, Delhibased Shark Shopfits has started an additional unit for metal fixture spread across 60,000 sq ft, while more recently, Kider India has announced to expand their metal capacity. Boasting their strength in wood, Bangalore-based fixture manufacturer Kalatmak Spatial Systems, is planning to add 50,000 sq ft to their facility space, to strengthen their metal capacity by adding manpower and a range of finishing line machineries. Walking on the same path, Sudhir Balakrishnan, Gibam India Pvt Ltd, said, "The trend is surely moving towards metal fixtures. Retailers are moving away from wooden fixtures and back panels. We plan to invest heavily into stocks of aluminium and MS uprights along with machinery in laser cutting and power press etc."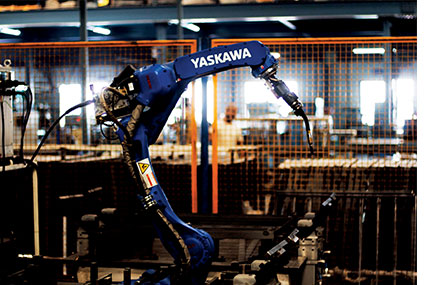 THE AUTO MODE
Automation is making its way slowly but steadily into new fixture facilities, ensuring international standards and export quality finish. Here, it's noteworthy to mention that according to VM&RD's survey last year, more than 50% of top 28 fixtures manufacturers from the country exported their product ranging between 10-25% of their total production.
Looking at large exports to European market, Manu Sharma, Director, Kider India, explains, "As we are looking at mass production of retail fixtures, we have automised our facility to almost 90%, while our welding and fabrication facility is totally robotised. This has helped us ensuring efficiency with high quality production."
According to a VM&RD survey, the manning strength of the industry has reduced from 140 to 103 per factory citing a reduction of 23%. This definitely is a reflection of manufacturers resorting to semi-automised practices. However, complete automation is meant for only mass produces and is not possible for customised fit-outs. Manish Jain, Co-founder, Shark Shopfits, explains further, "We have recently installed 2-3 processing machines, which reduces human intervention to a large extent. However, if you look at overall manufacturing process, 50-60% will be automised, while customised product manufacturing will demand the rest of 30-40% to be manually operated."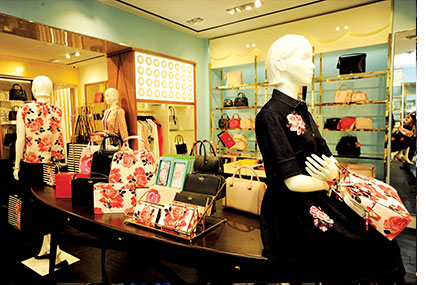 FINER FINISH
Buoyed by the entry of luxury brands in India, more brands are opting for premium look by upgrading the finish, with metallic gold and rose gold often being the popular choices. Rajesh Sharma, Director, Kalatmak Spatial Systems, explains, "Earlier, metal finishes were given by brushes. Now, as brands are opting for glossy/mirror finishes than the earlier matt finishes, there are ready metal sheets available in the market to achieve both matt and gloss looks."
Interestingly, as leading fixture manufacturers are concentrating on bringing expertise to be able to deliver all kinds of finishes, this job is often outsourced from players, who do not come typically from the industry. In fact, quite a few number of luxury brands from Reliance Brands resorted to these last mile finishing professionals to achieve customised finishes of fixtures. Vausdevan from Bangalore-based fixture manufacturer A-Plus, explained further, "For finishing, the use of acrylic and PU has increased as brands are opting for glossy finish to bring premium looks."