New Zoya boutique in Gurugram is all about the art of luxury jewellery
By Retail4Growth Bureau | April 29, 2022
House of Tata has unveiled their first Zoya boutique at Ambience Mall, Gurugram.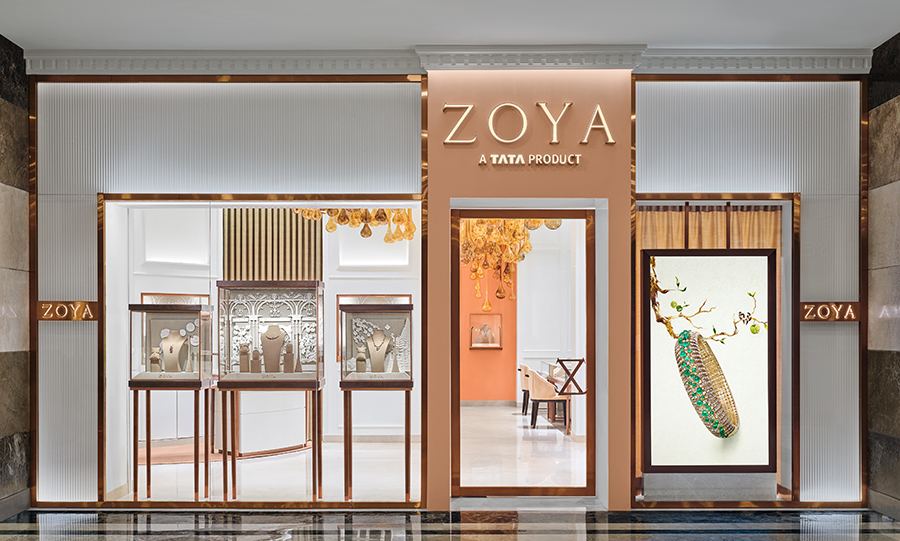 House of Tata has unveiled its first Zoya boutique within Ambience Mall, Gurugram. The launch was hosted by Zoya's Business Head, Amanpreet Ahluwalia and attended by actor Aditi Rao Hydari. "Redefining the way luxury jewellery is experienced in India, this exquisite boutique with its contemporary design and artisanal soul, echoes the maison's unwavering commitment to impeccable craftsmanship," says the company statement.
The store design highlights include the contemporary façade, soft interiors in delicate shades of skin, white and blush, and rich panelled walls with gilded accents of Zoya Ambience Mall .
The store houses all Zoya's resplendent collections. Displays are generously spaced, with a refreshing interplay of minimal with intricate and effortless with finely-crafted. A signature chandelier, suspended in the air, lends the right amount of golden-hued warmth.
The private lounge, meant as a warm, personalised customer experience space, is swathed in rich, blush fabric and sheer curtains,
The idea is to convey the the brand's "global expression and Indian soul" and the brand's designs that give contemporary form to traditional craft by masterfully blending the artistry in traditional karigari with modern technology.
Amanpreet Ahluwalia, Brand Head, Zoya, says, "Delhi is a very important city in the Zoya story and we are happy to open in Gurugram, which is our second store here. We are glad that Zoya has been so well received through our 4 stores and 6 galleries and are certain that Gurugram's discerning clientele will fall in love with Zoya's rare and meaningful jewellery."
Said Aditi Rao Hydari, "I was delighted to attend the launch of Zoya's new store in Gurugram. Zoya's jewellery is exquisite and as an artist, I love seeing how myriad inspirations are brought alive through to create signature pieces that are very distinctive. The store is a lovely extension of that same spirit."