Not A Kid's Play
By Satarupa Chakraborty | October 11, 2018
Poised to become USD 102 billion business by 2023, the kids wear retail is projected to constitute almost 22% of the total apparel business. The growth of kids wear retail has a rather metaphorical significance for India, which has the youngest population in the world. VM&RD attempts to map the growth, with a special focus on homegrown monobrands.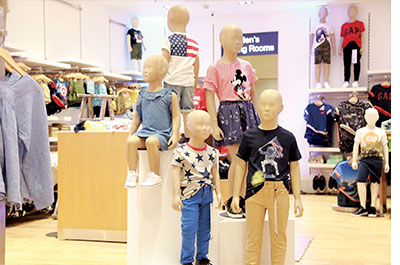 Amongst all global economies, India has the youngest population with an average age under 30. Bringing the age scale even down, the 0-14 years age group amounts to be around 29% of the total population. The Indian kids wear market in 2017 was estimated at Rs 66,904 crore, accounting for 20% of the total apparel market of the country. Kids wear is expected to grow at CAGR of 8.1% to reach Rs 145,445 crore by 2027, whereas menswear and women's wear are expected to grow at relatively lesser CAGR of 7.5% and 7.6% respectively (Source: Technopak Report).
Growth Of International Brands
Like any other apparel category in India, organised brands comprise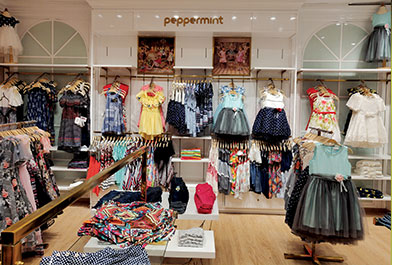 only a miniscule of the overall kids wear market. The kids wear market in India is mostly dominated by private labels -- big retailers, international brands and just a handful of home-grown monobrands. However, there has been an interesting shift with the private labels moving to the level of monobrands, while most of the popular homegrown kids wear brands are moving towards EBO expansion after operating exclusively through SIS. Thanks to the GST boost, which is making the shift from unorganised and organised retail smoother. The market share of private label products in India is expected to increase from 4.5% in 2016 to around 10% in 2020.
It would be interesting to take the example of the social media-led Mini-Me trend to explain the growth of private labels. Almost all leading Indian retailers and the international brands have kids wear private labels today and some of the international brands like US Polo, Gap, Benetton, Adidas, Pepe Jeans have started their special kids wear store format. Take the example of Pepe Jeans, which has a strong portfolio in India with 238 retail touchpoints, and the brand started their own kids wear store format for the first time in India amongst many other global markets. Today, Pepe Jeans has 8 exclusive kids stores in strategic locations and the network is growing.
Gap is another international brand which has given enough importance to its kids and baby apparel categories. Gap currently has 15standalone stores mostly in metros and 21 shop-in-shop stores across Tier II and Tier III cities. Out of these, 13 are family format stores that offer adult, babyGap and GapKids products, while 2 are adults only stores. With consistent focus on the kids wear category, Gap is building a strong GapKids/babyGap shop-in-shops in cities like Kolkata, Chandigarh, Ahmedabad and more.
Parag Dani, CEO, Premium and Bridge-to-Luxury division, Arvind Lifestyle Brands Ltd, said, "Gap is focused on strategic expansion. We're looking to further expand into family formats, adult only formats and exclusive GapKids/babyGap formats too in the months to come based on the demand for each segment in identified markets."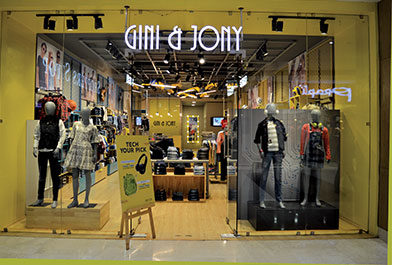 Homegrown Monobrands: Handful But Here To Stay
While the most successful Indian kids wear brand Gini & Jony seemed to have seen tad de-growth over past few years, its close successors like Catmoss and Liliput have seen some unpredictable fall. At the same time, brands like Kidology, which is working on the bridge-to-luxury segment in this category and has a much higher ticket value, hit the revenue scale of USD 1 million.
Surprisingly, unlike other apparel categories, kids wear retail seems to have witnessed rise of just about a handful of organised exclusive kids wear homegrown brands.
While questioned on the de-growth of the 35 years old homegrown kids wear brand, Sailesh Lakhani, Vice President, Gini & Jony, said, "Well, shutting down stores doesn't essentially mean plummeting business. It was rather a strategic turn in our business plan to shut down stores that failed to account profitability. At the same time, we grew our store network effectively and now, with a new look and feel of the stores."
Although the branded kids wear segment has recorded higher growth in recent years, it still remains a largely unbranded market, with products sold mostly through unorganised retail channels. Some Indian manufacturers who had previously been focusing solely on the export market have started reorienting themselves to meet the growing demand within the country. Consequently, they have come up with their own brands and independent retail operations.
Segmental Development
Manu Indrayan, Co-founder & CEO of the second largest Indian kids wear brand, 612 League, explained, "The segments in terms of age group are pretty crucial, and so are your retail strategies. As a mid-price segment brand, we were very sure of the categories that we operate in. We started with kids wear and later diversified into pre-teen.
The Indian kids wear market is slightly skewed towards boys wear owing to 53% boy's population for age group 0 to 14. In 2017, the boys wear segment held almost 52% of the total category and is expected to grow at a CAGR of 8.1% to reach INR 75,325 crore in 2027. However, as of today, the girls wear market at a CAGR of 8% is expected to reach to INR 70,120 crore in 2027.
Focusing on the girls wear segment, another kids wear brand Peppermint, which has recently started their EBO operation, will soon make debut in footwear and accessories segments. Santosh Katariya, Managing Director, Peppermint, said, "I think that most of the international brands, which are pretty dominant in kids wear market, are still dealing with boys wear segment. Also, most of the brands are retailing casual wear. Therefore, we focused on girls wear and occasion wear. In fact, we took even a further step to launch region-centric design."
On similar lines, 9 years old brand NautiNati, has recently started Nautilene, which is a fashion-forward line for girls up to 8 years.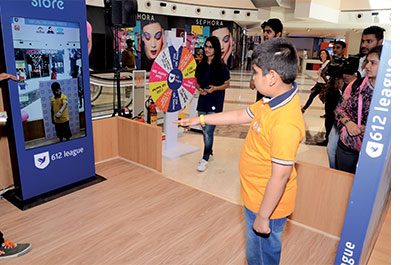 Retail Channels & Formats
Although opening standalone stores is becoming pertinent for most of the brands, homegrown and international brands put together, the dominant retailing channel remains shop-in-shop. Brands and retailer, previously catering only to adults, have extended their product lines to include children and are attempting to transform themselves as a complete family shopping destination. In this respect, even international brands have begun offering children's apparel.
However, Indrayan of 612 League thinks a little differently, "In India, retail fragmentation is so huge that the retail management becomes challenging for a brand that goes beyond INR 400-500 crore of revenue. However, thankfully, Indian retailers are acing the national rollout and operation games."
Although brands are strengthening their SIS presence more aggressively, exclusive brand outlets are often smoothening brand building exercises and empowering them with much more display capacity. NautiNati's Director Shantanu Dugar disclosed further EBO expansion plan of the company which is growing at a year-on-year growth of 50%, "In next 2.5 years, we target 50 EBOs. 60% of our next 20 stores will be company owned and then there will be a 50:50 ratio between CoCo and Franchisee rollout."
E-commerce is also proving to be a growing and trusted channel, especially in kids wear category. Amazon, the leader of e-commerce with about 300 kids wear brands and 900 sellers, reported 80% sales growth in 2017 compared to 2016. Kids' ethnic wear is one of the most searched sub category, which grew at 80% year-on-year in financial year 2018, as reported by Amazon.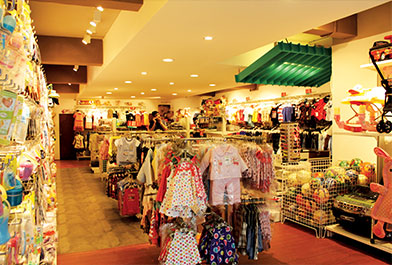 Retail Design Trends
While most of the monobrands are present in SIS format, brands are innovating on their store formats, design and visual merchandising. Some of the brands are even diversifying in different formats. Explaining on the retail formats, Sharad Venkta, Managing Director & CEO, Toonz Retail, said, "We have three types of store formats and cohesive design for our brand. For tier-II and tier-III cities, we keep our store design really simple, fixtures modular and store communication more pictorial than text-heavy. Our fashion section of the store has more ambient and aspirational lighting whereas the strollers/walkers and smaller merchandise display area is utilitarian. We invest more in mall and metros stores towards wall finishes, flooring, lighting, fixtures and store communications."
Gini & Jony has also recently re-imagined their store design and VM with Pune-based agency Studio Mars. NautiNati, on the other hand, though fast expanding in the EBO route, has a frugal capex approach. While the brand changes its design sensibilities with every new store, the capex cost doesn't go above INR 1500-2000 per sq ft. The store design sensibilities of these brands don't necessarily have a myriad colour palette, as may be expected in a kids' store. In fact, they more or less believe in using colour pop while keeping the design palette premium and muted so that the colourful merchandises get a better offset.
In this new-age design world, 612 League deserves a special mention for their 612 Wonder Store, which is basically a virtual try-on to engage directly with the young customers. Indrayan said, "We wanted to strike a direct dialogue with the kids. The Wonder Store concept, which has been rolled out in 6 of our stores so far, enables the kids to virtually try our merchandises with hand gestures. We plan to take it to all our stores soon."
Kids Wear Retail – Growing Up Fast
If we look at the broader picture, the INR 50,000 crore (approx.) also holds 30-35% of school uniform category. Among rest of it, only 12-15% constitutes private labels and organised brands. While fashion-focused retailers are dedicating substantial share of their businesses to kids wear segment, unorganised brands are now finding their way to come under corporatised league. However, some of the kids wear brands have struggled in terms of planning store expansions with adequate prudence and analysis and thus have been forced into rolling back plans or have got entangled in high debt traps and unwarranted business litigations. With a projection of constituting 22% of India's overall apparel market by 2023, the trick seems to lie in the segment mapping (age-group and merchandise type wise), right market identification and strategic retail expansion.
Growth story of some of the homegrown brands