Now, FMCG majors push their products online
By Bollam Sridhar Ganesh | Vjmedia Works | August 12, 2014
A handful of Small e-tailers are delivering grocery goods, vegetables and packaged food items at the consumers doorstep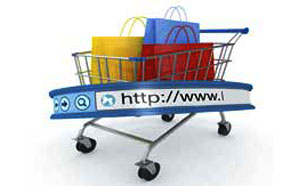 Indians' online buying is no longer limited to books, electronics, clothing or shoes. Their online shopping list now includes consumer items such as soap, shampoo, hair oil, and household items such as grocery, vegetables, and packaged foods, among others.
While leading e-commerce portals Flipkart and Amazon sell soap, shampoo, hair oil and other personal care products online, there are a handful of small e-tailers - localbanya.com, mangoshoppers.com, zopnow.com, ekstop.com, onekirana.com, eazygrocery.com, citykirana.com, easyration.com, mygrahak.in, dilligrocery.com, bigbasket.com, etc - that deliver grocery goods, vegetables and packaged food items at the consumers doorstep. While most of these follow a free delivery model and are city-specific, there are national players, too.
The huge potential of online shopping has caught the attention of top fast-moving consumer goods (FMCG) companies such as Dabur, Marico, Bisleri and ITC, which have started pushing their products through the online route. Notably, some of these are gearing up to launch their own e-commerce portals, while a few have already done so.
While ITC has already started selling its food products through its own website shopping.kitchensofindia.com, some of its products such as Dark Fantasy (biscuits), Farmlite (biscuits), and Kitchens of India (ready-to-eat Indian dishes) will be sold through other e-commerce websites over the next few months.
Marico already sells its products through Flipkart and Amazon.
Dabur set up its online shopping portal for beauty products called daburuveda.com last year to sells the company's Uveda range of skincare products. The portal also offers 'cash on deliver' option. Its retailing arm NewU also has an online channel.
According to a study by Assocham, the Indian online retail sector is expected to grow to Rs 7,000 crore by 2015.
However, revenue from online sales is still very low. "It would be a single digit, maybe two per cent or less of the total revenue of FMCG companies at the moment. However, this is set to multiply in the coming years. Online shopping offers convenience, and consumers can also get better prices. Some of the online FMCG retailers are getting into private labels, which could actually bring down the prices by up to 40 per cent," said an analyst with an equity brokerage firm.
Global consulting firm KPMG and Internet & Mobile Association of India said in a recent report that the e-commerce sector in India has grown by 150 per cent in the past three years - from $3.8 billion in 2009 to $9.5 billion in 2012. According to the study, e-commerce will contribute to four per cent of India's gross domestic product by 2020.
In a November 2013 report, equity brokerage firm CLSA noted that online retail in India is worth $3.1 billion or about 10 per cent of the organised retail market in India.
It is estimated to grow to $22 billion or more than 15 per cent of the organised retail market in India over the next five years, it added.
Globally, FMCG e-tailing is growing at a fast clip. According to a June report by Kantar Worldpanel, e-commerce is expected to account for $53 billion of global FMCG sales by 2016 - an increase of 47 per cent from the present level of $36 billion. The share of online sales will also increase to 5.2 per cent by 2016 from the present level of 3.7 per cent, it added.
Led by South Korea, Asia will be the next major growth market for online sales for FMCG companies, Kantar Worldpanel stated. Interestingly, 55 per cent of South Koreans buy FMCG products online even now, which is the highest across the world.
Although online makes up for just a small share of FMCG sales at the moment, all countries are witnessing considerable growth. The future belongs to retailers and brands that see the bigger picture and leverage the opportunities provided to broaden their target markets.
One of the main concerns of FMCG players is that e-commerce might take away business from physical channels. However, according to Stephane Roger, global shopper and retail director at Kantar Worldpanel, this is one of the biggest misconceptions. Having an online offer actually helps retailers secure additional revenue rather than cannibalising the existing business in brick-and-mortar stores, Roger noted.