OfficeYes.com announces franchise opportunity in India
By VJ Media Bureau | Vjmedia Works | May 07, 2013
The company has currently opened two reseller stores in New Delhi at Rohini and Vikaspuri with more in the pipeline.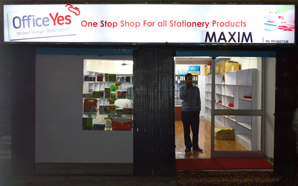 OfficeYes.com, India's largest office supplies and stationery company has recently announced its franchise opportunity in India. Through this franchise channel, entrepreneurs and aspiring entrepreneurs can open one-stop stationery and supplies stores all across India under the OfficeYes brand name. Currently, OfficeYes.com has opened its first two reseller stores in New Delhi at Rohini and Vikaspuri with more in the pipeline.
OfficeYes.com has launched its franchise opportunity based on the reseller model, which gives more autonomy and freedom to its franchise partners or resellers letting them run their business their way without too much intervention together with providing all the support they need. The franchise opportunity is open to anyone with the passion to sell and the capacity to invest minimum Rs 3-4 lakh (including the refundable reseller fee of Rs 1 lakh). The recommended retail space required is 100-150 sq feet.
Commenting on the initiative, Co-Founder and MD - Siddharth Nambiar said, "Our company's main value proposition is offering great value via a convenient platform and our reseller stores will help us to spread our offering over a wider area and access new channels. Building a chain of stores throughout the country with the capacity to provide a comprehensive stationery and supplies solution to businesses, institutions and individuals is what we aim to achieve."
OfficeYes.com's Franchise Opportunity in India comes with various benefits such as extensive industry driven expertise, guidance at every step and widespread marketing at a low investment cost. According to the company's press release, the franchise opportunity offers direct access to target customers and quick return on investment with 100% ROI within the first year and profit margins upward of 20%.
The stationery and supplies market in India is estimated to be worth approximately Rs.50,000 crore but is largely served by disorganized local vendors.