OMA Awards 2014: A tribute to excellence at retail
By VJ Media Bureau | Vjmedia Works | March 26, 2014
This year POPAI India OMA Awards received 232 entries over 48 categories from 25 companies and about 126 entries were shortlisted.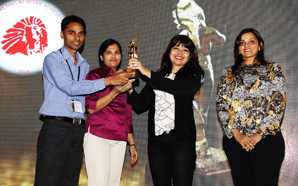 POPAI India celebrated its 4th edition of Outstanding Marketing-at-Retail Achievement Awards 2014 at the Westin, Mumbai on March 21, 2014. This year POPAI India received 232 entries over 48 categories from 25 companies and totally 126 entries were shortlisted.
Vijay Mane, Chairman of POPAI India , said, "We have had a lot of entries this year and the response has been overwhelming. POPAI awards is about advertising, creativity, designs, concepts and we have infused that in our event with a touch of fun and entertainment. The success of the OMA Awards night is because of our team effort. Suvarna has played a major role in ensuring that the event turns out to be memorable. India is a growing country with a huge potential, and our industry is at the cusp of that growth. We are a team of dedicated members and the success of OMA awards has just shown that."
DMS Retail Works Pvt. Ltd. and Sab Creations Pvt Ltd. received the maximum number of awards. The'Display of the Year', which is the most prestigious award in the contest, is given to the winner of the maximum number of Gold awards. This year Planet Design, Mumbai, won the Display of the Year (Modern Trade -- Temporary), for their entry "Scrotch Brite Ariel Kadhai", while Studio Thorn Integrated Promotions Pvt. Ltd. , Delhi, won the'Display of The year' (Permanent) -- Traditional and Modern Trade - for their entries - "Grey Goose Gondola"and "Livpure Touch Panel" respectively.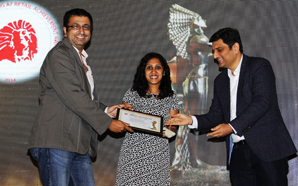 Haresh Nayak, Regional Director, Posterscope Asia Pacific, Managing Director, Posterscope Group India said, speaking about wining the award, "It is really a proud feeling to win POPAI Awards, a renowned title in retail industry. We see ourselves appreciated with 5 trophies and it gives an encouragement to do better and better with year on… Receiving this award only convinces that it recognizes the hard work and creativity that we do to improve the brand presence in the market amongst consumers and further promising our clients about our involvement with the brand. We look for more in the coming years."
Rohit Vedi, Owner, Innovaxis, a first-time participant who also won the Gold says, "The OMA award ceremony was an excellent event and we were delighted to be a part of it. This was our first entry and we are awarded the Gold Trophy. This is quite a motivating factor for us and also throws a challenge to create many such new Innovative Developments in times to come. The product - Counter Top Display for "Miniatures" was developed for our Client M/s Pernod Ricard and it integrates two different latest technologies I.e. LEDS Edge Lit & Pushfeed System to give the Product Display a distinct finish and creating a buzz among consumers. We would like to express our gratitude and sincere thanks to Mr. Rajat Mehrotra - GM Marketing (Pernod Ricard) for his continuous support in carrying out this development. Without his proactive initiative it would not have been possible for us to come out with this unique innovative award winning product. "
The prestigious jury panel for OMA Awards 2014 consisted of:
Darshana Shah, Senior Vice President- Marketing and Visual Merchandising - Hypercity Retail (India) Ltd.
Deepika Warrier, Vice President - Marketing, PepsiCo - Beverages Business
Shibani Shourie, Head - Marketing and Visual Merchandising -, More(Aditya Birla Retail Ltd.)
Rahul Bhowmik, Marketing Director (India and SAARC) - Mattel Toys India Pvt.
Nitin Saini, AVP - Customer Marketing, Cadbury India Ltd.
Kaushik Mukherjee, Manager - Merchandising & Trade Communication, ITC Ltd
Rahul Saigal, President - Geometry Global, India
Kevin Saladyga, Director - POPON.net & Senior Structural Designer - PCA
The entire judging process was completed online and the judges evaluated the contest entries using submitted images and Fact Card information in both the rounds. The jury scrutinized the entries based on various parameters including ideation, innovativeness, impact on shopper etc, to name a few.
The Awards received wide appreciation from more than 200 industry professionals present during the ceremony, who together raised a roast to excellence at retail.
For the uninitiated, Point of Purchase Advertising International (POPAI), a world renowned Global association of Marketing-at-Retail has been holding the prestigious OMA Awards worldwide over 55 years. The awards recognize the most innovative, engaging, and effective displays at retail.