Pantaloons makes quiet alterations
By Chaitanya Muppala | Vjmedia Works | February 19, 2014
A greater ratio of private labels, monthly refreshes and a keen focus on margins to lift fortunes of the department chain.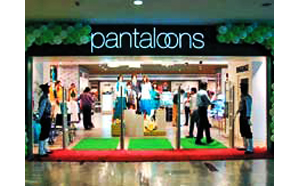 Aditya Birla Group has been quietly but surely making changes to lift the fortunes of Pantaloons, the fashion chain it bought nearly a year back.
Pantaloons, which came into the Birla fold in April, 2013, is looking to add new in-store brands, launch collections every month and sharpen the positioning of existing brands. These would accompany a store revamp.
"The idea is to keep pace with aspirations of customers," says Shital Mehta, chief executive officer, Pantaloons Fashion & Retail, who was earlier the head of Esprit, which had a distribution agreement with Madura Fashions & Lifestyle, a Birla group company.
While Aditya Birla Nuvo, the group's textiles division and immediate parent of Pantaloons, has a lot of standalone apparel brands in menswear such as Peter England, Louis Philippe and Van Heusen, it intends to increase the in-house brands to grow Pantaloons.
About half of Pantaloons' sales comes from its in-store brands, a share it is working to increase to two-third in the next two-three seasons. Rival Shoppers Stop gets 15.5 per cent of sales from private labels such as Stop, Haute Curry and Live. Trent-owned Westside largely depends on its own brands accounting for 80 per cent of sales.
But it is not losing sight of profitability. Birla has already dropped six to seven older in-store brands which were not performing well, after buying Pantaloons. "If the new management wants to create new brands, it means they do not want to rely on brands owned by the erstwhile parent," says a top executive of a department chain. "Margin expansion is our biggest goal," Mehta says. Pantaloons' EBITDA margin has ranged between 2.5 and 3 per cent. Apparel margins in retail can range from 45-50 per cent.
Previously owned by Kishore Biyani's Future group, Pantaloons is slated to add three new brands this summer - Byford, in men's sports category; Alto Moda, in plus-size category, and Chirpy Pie for infants. The collection, that would be made available at its stores in March, is created by the chain's 200-strong design team. "We would like to launch three to five brands during Diwali," says Mehta.
Pantaloons' existing 25 in-store brands are set to get a sharper positioning with the help of character branding and props, says Mehta.Prashant Agarwal, joint-MD of Wazir Advisors warns that "spending on branding private labels could bring down margins". Shoppers Stop and Westside have used activations to build their in-store brands over the last few years.
Monthly refresh
Pantaloons will also launch new collections every month. It will have its Ethnic Utsav in March, followed by Range De Indigo in April and Tropical Utsav in May. There would also be days earmarked for tailormade promotions such as Women's Wednesday, Fashion Friday, Baby's Day Out etc.
To beat a line-up that mirrors other department chains, Mehta says Pantaloons would, in each category, stock one or two of the top brands and sell its own brands across the other price-points in a category. Retailers usually have a larger array of third-party brands besides one or two store brands.
The chain will revamp stores with new fixtures and visual merchandising. Birla is planning to open a store every two to three weeks in the next financial year, compared to one every month this year. Twelve new stores have taken the count to 76 stores.
Adding to challenges in the retail downturn, are fast fashion foreign retailers such as Zara and Forever 21 that have caught the shopper's fancy, say experts.
Though Pantaloons' same store sales (SSS) growth has been a low single digit, Mehta says that it was due to transition and legacy issues. He says the chain wants to see a SSS growth higher than the industry in 2014-15. Pantaloons posted a net loss of Rs 15.66 crore in Q3 of 2013-14, as compared to net profit of Rs 20 lakh a year ago. Mehta says with the string of changes to the brand, 2014-15 will improve significantly.
LEVERAGING MADURA'S STRENGTHS
· Pantaloons and Madura Fashion & Lifestyle,

both owned by Aditya Birla Nuvo, have
leveraged each other's strengths
· While Pantaloons has got Madura's menswear

brands to widen its range, Madura has got a

new sales channel
· Pantaloons has Peter England across its
stores. It has also retailed the more premium
Van Heusen and Louise Phillippe at some outlets
· "Madura's operations and merchandising are

superior to Future group. Its brands have

helped Pantaloons' menswear," says Anupam

T, CEO, malls, Runwal group, which is a

developer whose mall in Mumbai houses a

Pantaloons outlet