Paper Boat launches online store
By VJ Media Bureau | Vjmedia Works | August 06, 2014
Partners with Delhivery to power the entire supply chain technology and offer end-to-end operations including shipping and cash on delivery payments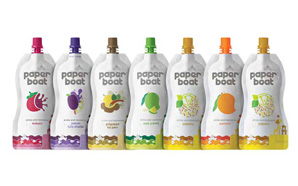 Paper Boat, a brand of authentic Indian drinks launched its online shop - shoppaperboat.com to serve consumers across Bangalore, Delhi-NCR, Hyderabad, Chennai, Mumbai and Pune. Opting for e-commerce as a channel for sale is rare in the FMCG sector. However, Paper Boat is relying on the huge positive consumer response the brand is receiving for its products, offline. They have partnered with Delhivery to power the entire supply chain technology and offer end to end operations including shipping and cash on delivery payments.
All the seven flavors are available on the online store. Paper Boat offers free delivery across these cities for a minimum order of Rs 150. The brand offers Cash on Delivery option on the website.
"We always look at innovating and creating something inspiring with Paper Boat. The objective of this initiative is to be easily accessible to our consumers. With a large number of our customers spending more and more time online, we wanted to provide our consumers an added avenue of choosing and ordering our beverages. Shoppaperboat.com is a step in that direction," said Neeraj Biyani, Co-founder & COO - Hector Beverages.
He added, "While Paper Boat is aggressively expanding distribution to reach the stores near you, until then our consumers should have the choice of enjoying our beverage from the comfort of their homes."
Hector Beverages is amongst the first to adopt an omni-channel strategy effectively in this segment where they use their existing offline distribution channel to power their online growth seamlessly.
Mohit Tandon, Co-founder and CSO - Delhivery said: "Paper Boat offers a premium and unique product to the ecommerce marketplace. While most traditional players are not available in this category today, with Delhivery's Omni-channel platform, we ensure that consumers have an outstanding experience while shopping for Paper Boat online. We have closely integrated Hector Beverage's offline distribution network, to ensure delivery of orders within 2 days across all major cities in India."